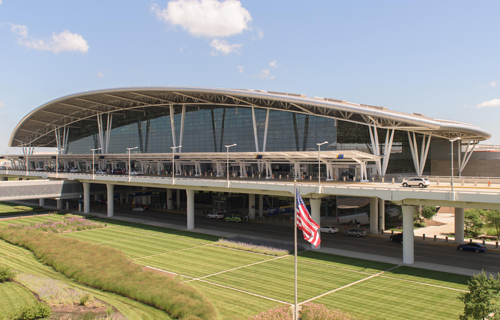 The Indianapolis Airport Authority is preparing to spend more than $700,000 to keep birds from roosting at the Indianapolis International Airport terminal.
On Friday, the airport authority's board of directors awarded a contract for a bird-deterrent system to Indianapolis-based general contractor Evans Development Co. Evans submitted a base bid of $723,970. Including a 3 percent construction reserve to cover unforeseen events, the total bid amount is $745,689.
Evans will install panels of heavy-duty polyethlylene netting directly below the roof trusses to keep birds from roosting under the roof's overhang at the front of the terminal. The panels will be anchored to the building through "robust attachments," creating a system that can withstand the wind, said Jarod Klaas, the airport authority's interim senior director of planning and development.
Also as part of the project, workers will refurbish, clean and paint metal structures under the roof.
The new system will replace netting installed in 2009, shortly after the new terminal opened. Birds had begun roosting and nesting on the structures, and their droppings created unsanitary conditions for visitors at ground level. The original netting was intended as a temporary fix and it has come to the end of its useful life span, Klaas told the board.
The airport board also approved several other contracts and contract amendments at Friday's meeting.
They included a change order to a previous contract with Milestone Contractors LP, which already is doing road and parking lot rehabilitation work at the airport. The change order, not to exceed an additional $421,780, will cover the cost of new walking lanes, wider sidewalks and traffic-calming measures in the new park-and-walk passenger parking lot, which was created earlier this year in a portion of a lot adjacent to the main parking garage.
The new construction contract total with the addition of the work is $3.27 million.
Please enable JavaScript to view this content.