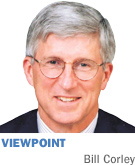 You have been doing your job as a manager and sometimes a leader as well. You have accomplished your department's objectives and goals for several years.
Recently, you received praise from your boss during your annual performance appraisal, but there was no suggestion about a promotion. In fact, there was no specific developmental plan for you. So what are some specific steps you can take to think more strategically to get that promotion?
I will always remember a quote from my mentor, Ray Brown at Duke University: "You can't keep your eyes on the hills when your nose is on the grindstone." When you are always focused on the operations of your division or department, it's hard to think about the Big Picture. You have been on the "operations treadmill" and had no time to think about what's going on in the larger organization. In fact, some of my executive coaching clients are in this situation of being great operations managers, but they don't have time to think strategically or view the Big Picture.
Another way to help think about the Big Picture is to do strengths, weaknesses, opportunities and threats (or SWOT) analysis. But instead of doing the strengths and weaknesses of the company first, do the O's—or the opportunities—first. This will be hard because many managers have seldom thought of the present and future opportunities for the business. There hasn't been time. Doing the O's first will force you to think more about the external environment and how the company can grow the business. Opportunities are potentially new business and/or an improvement in how you currently do business, maybe even an innovation.
A second way to begin to think strategically is to compare your business with another business in a different field. An example for me was banking because I spent 40-plus years in the health care arena. I started to study how the financial (banking) service industry evolved over time. What I found was that banks decentralized their operations to provide more convenience to their customers. When you look at health care over the last 30 years, nearly every health service was provided in a hospital. Recently, there has been much decentralization in health care services in order to provide greater access to patients and families. This illustrates the need to become comfortable in challenging the status quo.
A third way to be more forward-thinking is to think about new trends in your current businesses. How do you spot a trend? Again as Ray Brown said, "When the winds of change are blowing, it is necessary to know which way and how fast!" He also said, "It is necessary to distinguish between prevailing winds and intermittent breezes." Spotting trends takes concentration and focus on the future of your business.
Last, a professional must find time to do strategic thinking. I learned that it takes most people a block of two to three hours to switch from operations problem-solving to really thinking strategically. It is important to ask, "Are there better options to the way we currently perform services or provide new products, from the cost, quality or safety standpoint?" Also, it is important to realize that every new idea is not a great idea. Continually ask: "Do we have the best answer to the question? How do we measure success in our business?"
Remember, making this change from operational problem-solving to strategic thinking will take time. Any major change in behavior like committing to strategic thinking requires fits and starts. Good luck with your promotion.•
__________
Corley is the retired CEO of Community Health Network and now does leadership coaching. He can be reached at bcorley@ihsconsulting.com.
 
Please enable JavaScript to view this content.