How should Congress move forward on the health care issue?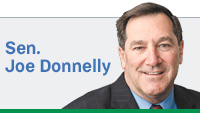 As we work to improve our health care system, our first obligation must be to do no harm. Unfortunately, the Trump administration continues to undermine the stability of our nation's health insurance markets by threatening to stop cost sharing reduction (CSR) payments that help lower premiums and deductibles for thousands of Hoosiers. The administration's attitude appears to be that we should let our current health care system implode.
That isn't how Hoosiers approach solving problems. As I said in a letter recently to fellow Hoosier Seema Verma, now administrator of the Centers for Medicare and Medicaid Services, "The administration has the ability to help provide market stability today, and I respectfully request that the administration make a strong public commitment to continuing the CSR payments so that Congress can work together in a bipartisan fashion in an effort to reduce costs, expand access, and strengthen the American health care system."
Two insurers providing coverage to Hoosiers specifically noted that market uncertainty, caused in part by a lack of clarity on the future of the CSR payments, contributed to their decisions not to offer insurance plans next year in Indiana. CareSource said certainty around these payments would "seal the deal" for them to expand coverage in the four Indiana counties that currently lack insurers in the individual marketplace.
This debate affects the health and economic well-being of our loved ones and neighbors. That's why I've been working with a bipartisan group of senators to develop ideas that would help stabilize the insurance markets and make it easier for people to access coverage. That starts by increasing the certainty of CSR payments, which are helping reduce health care costs for working families right now. Without CSR payments, rates could increase an additional 15 percent to 20 percent next year.
I am also encouraged that the Senate Health, Labor, and Pensions Committee is planning to hold bipartisan hearings on this effort in September, so the Senate can gather input from those at the center of our nation's health care systems: patients, doctors, nurses and hospitals.
We know from experience in Indiana that the best results come from working together, as then-Gov. Pence and I did to expand health care coverage to hundreds of thousands of Hoosiers through HIP 2.0. Pence has referred to HIP 2.0 as a "national model" and I agree with him. It has provided 400,000 Hoosiers with coverage (many for the first time in their lives), has reduced Indiana's uninsured rate 30 percent, and is a critical tool in assisting those struggling with substance-use disorders, including opioid abuse, as they seek treatment.
I won't support any effort that undermines the coverage of those Hoosiers—or of the families whose children have complex medical conditions and rely on HIP 2.0 and Medicaid to get the care they need. My focus will continue to be on working together, in a bipartisan way, to make health care more accessible and affordable for Hoosier families.•
Click here to see all of the latest Forefront columns.
__________
Donnelly, a Democrat from Granger, is a U.S. senator. Send comments on this column to ibjedit@ibj.com.
Please enable JavaScript to view this content.