How should Congress move forward on the health care issue?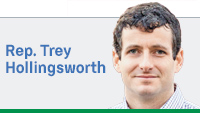 Amid partisan struggles and bickering in Washington, the main debate frequently gets sidelined while the media and career politicians attempt to distract Americans. Politics gets in the way, and the American people are left with a disastrous status quo. Nowhere is this more evident than in the debate over the future of health care.
The central question in the debate on health insurance is this: Who is going to be in charge of your health care decisions? Who decides what plans are available to your family? Who decides what doctors you can visit? Who decides if you can choose not to purchase insurance?
Under Obamacare, these decisions are increasingly being taken from you and your family and made by bureaucrats who don't know you, don't know your needs, and don't have a stake in your future. They decide what risks your plan will and won't cover. They decide what companies can sell you insurance. They decide if you can elect to go uninsured. They, they, they. Under Obamacare, you and your doctor are no longer in charge of your care.
Here's what those bureaucrats have gotten us so far:
■ 1,036 counties across America have just a single choice in health insurance on the exchange, meaning worse service and higher costs. Four counties in Indiana might have no providers on the exchange in 2018.
■ Individual premiums are up, on average, 105 percent (more than doubled!) since 2013, costing individuals nearly $3,000 more per year. The average deductible has risen to the point that many delay or don't seek care, even though they are paying for insurance.
We need to repeal bureaucrat-centered Obamacare and replace it with patient-centered health care.
That means there should be flexibility in what insurance companies offer. If you don't want certain coverage, the government shouldn't force you to take—and pay for—it.
You should be able to buy across state lines. You should be able to purchase the plan you decide is best, no matter where it originates.
We must return flexibility to the states to innovate and develop new solutions. We don't want the same solutions California or New York implements; we want to find better ways to make coverage more accessible and affordable right here at home. That's the Hoosier way.
If you believe the best option for you and your family is to forgo coverage, you should have that option. In 2015, 6.5 million American families paid more than $3 billion to the federal government simply because they didn't want to buy a plan. They—bureaucrats—are charging us not to buy government-approved health insurance.
Hoosiers are hurting because bureaucrats think they know better, and their "better" has meant much higher premiums, out-of-reach deductibles, and narrower coverage that often prevents us from seeing our own doctor. We urgently need to restore power to Americans, enabling us to decide the best coverage for our families and empowering us by making insurance companies compete to drive costs down and provide the best coverage.•
Click here to see all of the latest Forefront columns.
__________
Hollingsworth, a Republican from Jeffersonville, represents Indiana's 9th District in the U.S. House. Send comments on this column to [email protected]
Please enable JavaScript to view this content.