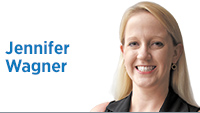 Late last month, New Mexico congressman Ben Ray Luján said something that made some people mad: "There is not a litmus test for Democratic candidates."
Luján, who chairs the Democratic Congressional Campaign Committee, was specifically referring to the issue of abortion and whether the DCCC would continue to fund candidates who are pro-life.
He's not the first to say such a thing, nor will he be the last. But he said it, and the outrage was predictable and swift from those in the party who believe supporting reproductive rights, including abortion, is required if you wish to identify as a Democrat.
But politics isn't quite that simple, and this issue is enormously complicated no matter how you approach it.
What does it even mean, for example, to say that you are "pro-life" or "pro-choice"? There are those in the former camp who would make exceptions if the mother's life was in danger or if she had been raped or the victim of incest. There are those in the latter camp who do not support late-term procedures.
The U.S. Supreme Court decided Roe v. Wade, but the court of public opinion is still all over the place—and no one has half-hearted feelings about the issue.
All of which brings me to the broader question of litmus tests in politics.
I wasn't the best chemistry student, but I remember playing around with acids and bases, turning those little strips of paper red or blue. Fun times. I also remember that acids and bases, when mixed together, have neutralizing properties. Pretty cool.
These days, of course, we use the term "litmus test" to mean that someone—often a candidate, but sometimes a judicial nominee or other public servant—must have a specific position on one particular issue in order for that person to be considered fit for service.
But here's the rub: While a litmus test does, indeed, give the onlooker an immediate red-or-blue response, acids and bases are actually measured on the pH scale, which goes from zero to 14, with pure water landing smack-dab in the middle.
What's that, you say? The scientific phrase we borrowed to describe someone's up-or-down stance on a particular issue is really just the tip of the iceberg? In order to find out the true chemical composition of a substance, you have to dig a little deeper and do more science-y things? Acids and bases, like people, wind up falling somewhere along a spectrum. And when you mix them together, they form new compounds, and they become less acidic or alkaline.
Nerdy analogy time is over, and I find myself agreeing with Rep. Luján: Litmus tests are dumb.
Also, people can evolve on issues when they talk to each other and learn more not just about what others believe, but why they believe what they do. Everyone has a story, and litmus tests simply don't allow for the kind of context you find along the pH scale.
It goes without saying that there are clear values that set Democrats and Republicans apart both as a matter of governing philosophy and proposed policies. Thankfully, we live in this amazing country where we're free to discuss, disagree and dissent.
As we engage in that process, however, we should be mindful of saying to people who identify with a particular party that they are not welcome because they are not a zero or a 14 on the scale.
There is no perfect Democrat. There is no perfect Republican. And we'd all be wise to recall that when this whole America experiment got started, the only thing we were aiming to perfect was our Union.•
Click here to see all of the latest Forefront columns.
__________
Wagner is a lifelong Indianapolis resident and vice president of communications at EdChoice. Send comments to [email protected]
Please enable JavaScript to view this content.