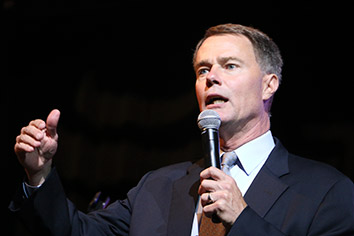 Mayor Joe Hogsett will submit to the Indianapolis City-County Council on Monday night a 2018 budget proposal that he describes as the first structurally balanced budget in a decade while adding police officers and fire fighters, boosting infrastructure spending and raising pay for some city workers.
The roughly $1.1 billion budget will include a $211,061 surplus, city officials said Monday morning. Last year's budget proposal, which spent slightly less than $1.1 billion, included a $23.8 million deficit.
The budget ultimately must be approved by the City-County Council. It will go through a public hearing process in coming weeks, and the Council likely will pass a budget in October before submitting it to the state.
Thomas Cook, Hogsett's chief of staff, said the mayor asked his administration to write a budget for which "expenditures and revenues were based on sustainable funding sources, not one-time funding sources."
The balanced budget is made possible in large part because Indianapolis is on pace to collect roughly $60 million in additional revenue. The budget expects an increase in $20 million in property tax revenue—resulting from an improving economy, not a tax increase—as well as $20 million more in new gas tax revenue approved by the Indiana Legislature earlier this year, $6.5 million more in stormwater fees, and a $10 million increase in various grants.
City Controller Fady Qaddoura said implementing a "more-with-less mantra has become the battle cry" of the administration.
He said the city has been finding ways to cut costs, including eliminating 50 positions as the result of a "smart-sizing initiative" that has saved $2 million, saving $5 million by renegotiating city contracts, saving $900,000 on a new timekeeping system, and saving $250,000 on supplies.
"We went all the way to converting [printers] to double-sided, black and white," Qaddoura said, emphasizing the lengths his agency has gone to save money.
Hogsett also plans to announce a four-year infrastructure plan that adds about $107 million on top of current infrastructure spending projections through 2021, including spending over three years $39 million that the city received in county option income taxes last year. That money had been sitting in a rainy day fund until now.
Under the budget proposal, the Indianapolis Metropolitan Police Department would receive funding for a new 86-member recruit class, with the hope being that it results in a net of 35 new officers after taking in account retirement and other attrition.
The Indianapolis Fire Department would receive funding for a new 40-member firefighter class.
The budget will also include funding for Council President Maggie Lewis' plan to increase some city workers' minimum wages to $13 per hour if that proposal separately passes out of the council.
"We think we can absorb the fiscal impact" of Lewis' proposal, Qaddoura said.
Please enable JavaScript to view this content.