Hotels in Carmel could soon have an unexpected competitor—the city itself.

After years of unsuccessfully trying to attract a private developer to open an upscale lodging facility, the city is stepping in to make an investment in a $40 million Autograph Collection hotel by Marriott in City Center.

The closest option to a full-service, upscale hotel now is the 263-room Renaissance along the U.S. 31 corridor, about two miles from City Center.

Some critics say it's unnecessary for the city to actually own a hotel, and that such an investment should be left to the private sector.

"We believe that our hotel is serving a market that is very similar to what an Autograph hotel would serve," said Mike Conway, chairman and chief portfolio officer for Cincinnati-based Winegardner & Hammons Hotel Group LLC, which manages the Renaissance. "We're concerned about a highly subsidized hotel that would be unfairly competing with not only us but other hotels in the market."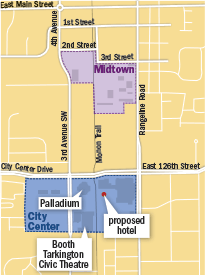 But Carmel Mayor Jim Brainard argues a full-service, upscale hotel is needed to keep attracting corporate headquarters and to provide an option not currently available. The 120-room Autograph would feature a restaurant, bar, entertainment venue and meeting space.

"We've heard from our corporate community that this would be very helpful," Brainard told IBJ. "We've been losing a lot of the business, I think, to Marion County."

The city would either directly provide or act as the backup for all the funding, and it would share hotel ownership with Carmel-based Pedcor Cos.—lead developer of City Center.

If early revenue and occupancy projections are accurate, the city could see an average annual return of 9 percent for the first 10 years—more than enough to cover debt payments.

City Council members—who must approve funding for the project—are cautiously supportive so far, saying it seems like a good idea. But they say more questions need to be asked before a vote can occur. The council isn't expected to decide until at least September.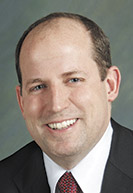 Rider
"Nothing has me extremely uncomfortable right now, but I'm still gathering information," City Council member Kevin Rider said. "We're not just saying 'yes.' We want the details."

Municipalities regularly use incentives to lure hotel projects, and, while becoming a hotel owner is a little more unusual, it does happen.

"I've seen it before," said Mike Wells, president of REI Investments.

Research from Cornell University School of Hotel Administration from 2014 showed the amount of public financing used in hotel projects can vary. And when hotels are fully funded with public dollars, the projects have ranged in size from 100 rooms with a waterpark to 1,200 rooms with a convention center.

Cities like Phoenix, Dallas, Denver and Cleveland have opened hotels they own with varying degrees of success. In Phoenix, city leaders agreed to sell its Sheraton in 2016 after years of accumulating millions of dollars in losses. But in Dallas, the Omni hotel saw a first-year occupancy rate of 68 percent, which was eight percentage points higher than expected.



Brainard repeatedly compares a proposed City Center hotel to the JW Marriott and Conrad hotels in downtown Indianapolis, but those projects were bigger in both cost and size: The JW Marriott campus cost $450 million with 1,005 rooms, and the Conrad cost $100 million with 243 rooms.

JW Marriott and Conrad are also considered luxury brands by Tennessee-based hotel research firm STR Inc., while Autograph hotels are ranked a notch below, as upper upscale.

The ownership structure and the way the deals came together are also different. In the case of the JW Marriott, Indianapolis had been searching for a developer to build hotels near the Indiana Convention Center and Lucas Oil Stadium.

Indianapolis-based REI Real Estate Services and Merrillville-based White Lodging were selected over two other teams for the project. REI and White Lodging proposed the specific brands and details (in Carmel, those would be determined by the city).

Indianapolis officials were more involved with the Conrad deal, as Circle Block Partners LLC and then-Mayor Bart Peterson wanted a luxury hotel downtown and decided a Conrad, owned by Hilton Hotels Corp., would be the best choice. The city sealed the deal with incentives.

In all, Indianapolis provided nearly $80 million for the JW Marriott and the Conrad in exchange for a small ownership stake, but city officials did not actually develop the hotels or hire the operators. That was handled by the projects' development teams.

In Carmel, the city tried for years to attract an upscale hotel developer to City Center. Tired of waiting, officials have opted to partner with Pedcor because the company owns the property where the hotel would be located.

But Pedcor would mostly act as another investor rather than a developer because the company has no experience in hotel projects. Instead, the city hired Tulsa, Oklahoma-based hotel consulting and management firm Coury Hospitality, which has already opened four Autograph hotels.

The Carmel Redevelopment Commission would oversee development, design and construction, but Pedcor would have approval rights on the exterior architectural features.

A yet-to-be-formed joint entity between the city and Pedcor would obtain a franchise agreement for an Autograph hotel and Coury Hospitality would run it.

As for financing, Carmel would provide $15 million in bond proceeds and back a $25 million construction loan that Pedcor would secure.

Would it succeed?

A 10-year financial projection prepared by Coury Hospitality shows the hotel generating enough revenue to cover expenses and debt payments from the start. But Paul Coury, chairman of the company, acknowledges the data is "our best guess" based on experience and historical ratios.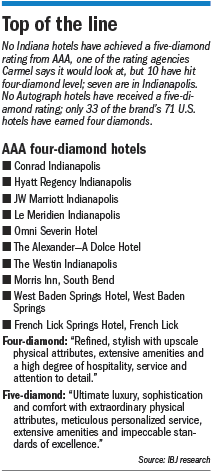 "I just think there's going to be a lot of demand for it," Coury said. "Any city with the amount of corporations that Carmel has, has at least one or two full-service hotels. And you really don't. Mathematically speaking, there's a demand for services they're not getting."

According to Coury estimates, hotel operating profit in the first year would be nearly $950,000, after paying expenses and debt obligations. That would be used to build a $7 million loan payment reserve.

Once the reserve reached $7 million, which is projected to occur in 2026, the CRC would receive two-thirds of revenue and Pedcor would receive one-third.

During the first 10 years of operations, the city is projecting an average return of 9 percent.

The data is based on an average daily room rate of $220 and 75 percent occupancy.

But Wells said the city needs to view the project as "not really a real estate investment. It's an operating business."

"And if the demand is not there and they're not able to get the occupancy and room rate that they project, they could lose money," he said. "And if you start losing money, you're not going to be able to pay back your bonds."

If revenue did fall short of projections, the city would first tap into the reserve fund. And if the reserve fund couldn't cover expenses, the shortfall would be split between Carmel and Pedcor.

"It's obviously not a proven thing. So, there is a risk," Rider said. "But there is a risk in a lot of things we've done. If we had not taken any risks over the last 20 years, Carmel wouldn't be where it is."

Industry officials suggested the city should commission a market study from an independent third party. But generally speaking, they said, it seems as though the hotel could fill a gap in Carmel's market.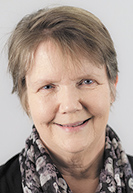 Myers
"Certainly, the brand is so unique that it would be differentiating itself from anything else we have out there," said Brenda Myers, president and CEO of Hamilton County Tourism Inc.

Myers said the hotel shouldn't struggle to fill rooms on the weekends, and traffic from corporate headquarters visitors should be enough to fill weekday nights.

Plus, overall, the hotel industry is doing well—room demand, occupancy and average daily rates continue to rise nationwide—and boutique hotels are gaining traction.

"Boutique hotels do thrive in markets where that demand exists, and I think that we're almost there and I think by the time it's built, we will definitely be there," Myers said. "But one of the challenges of boutique properties is the way the market is unfolding right now—upper-, mid-scale hotel products do really well. They can deliver as nice of an experience as the consumer needs."

City Council and CRC member Jeff Worrell said he wants to see the worst-case scenario before he casts his vote.

"But on the surface, there are more reasons to pursue it than to just rule it out because Carmel doesn't need it," Worrell said
Market impact

City officials acknowledge that the hotel would compete with the private market—and specifically The Renaissance on U.S. 31—but they say the Autograph would offer amenities not currently available.

"That's not a criticism of the hotels we have," Rider said. "Everything serves a purpose. The Renaissance is a great hotel."

Myers said the number of rooms at the proposed hotel should be low enough to have a minimal impact. By the time it opens, she estimated, Hamilton County will have 4,500 hotel rooms, meaning the Autograph would represent less than 3 percent of the market and about 14 percent of the rooms considered upscale.

"Out of these hotel rooms, 120 rooms in a market of 4,500 is not going to disrupt the market," Myers said. "Is there going to be more competition between it and the Renaissance? Probably."

But Conway, whose company manages the Renaissance, said the hotel would affect the existing market. He questioned whether the investment is good for the city.

"There's quite a bit of hotel supply in Carmel," Conway said. "We just believe hotels should be justified economically."

The hotel might not be viable, he said. "I'm not stating that the hotel would have an operating loss," Conway said. "It's just those are things you have to consider."

Myers said the timing of the hotel's opening could also factor into how the market reacts.

"If it would have been five years ago even, I think it would have been a challenge," she said. "Like everything Carmel does, it's ahead of its time. But in three years, I believe it will be ready for it."•