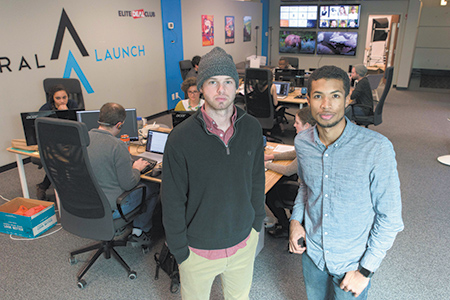 Indianapolis-based Viral Launch, a marketing tech firm that helps clients launch products and grow sales on Amazon, announced on Tuesday that it plans to hire 250 workers by 2021.
The firm, headquartered at 429 N. Pennsylvania St. downtown, currently has more than 20 employees and plans to add more than 30 by the end of this year.
To support the growth, Viral Launch plans to invest $2.22 million, according to the Indiana Economic Development Corp. Some of those funds will go toward doubling the company's office space to 10,000 square feet, either at its current headquarters or nearby.
"Choosing downtown Indianapolis as Viral Launch's headquarters has proven to be a great decision for our team," Casey Gauss, the company's co-founder and CEO, said in a statement. "We are at the heart of a quickly growing tech scene and we're excited to expand and attract the best creative and tech talent Indy has to offer!"
Viral Launch has two key offerings. The first is a subscription to software that gives insights into sales data and automates routine tasks like promotions and one-time-use coupons. Its second business, called Creative Services, provides professional photography, branding and label design, keyword optimization, and other offerings.
The company is hiring software developers and account managers, as well as a data scientist, content writer and an executive assistant. These positions are expected to pay an average wage nearly 35 percent higher than the state's average of $21.21 per hour.
In return for Viral Launch's job commitments, the IEDC has offered the company up to $2.5 million in tax credits and $200,000 in training grants. The incentives are performance based, meaning the company can't claim them until workers are hired.
IBJ reported in February that Viral Launch, founded in October 2014, has reached milestones that often take years to reach—including profitability and revenue exceeding $1 million.
The company, which has nearly 2,000 paid subscribers, has more than doubled its monthly revenue since January, the IEDC said in a press release.
Please enable JavaScript to view this content.