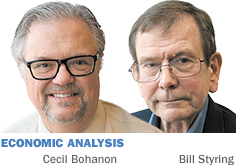 Politics often makes strange bedfellows. Free-market organizations like American Legislative Exchange Council and the Heritage Foundation have traditionally been the bete noir of green-energy supporters such as the Solar Energy Industry Association. But now those groups have teamed up with SEIA in opposing a petition to impose tariffs on imported solar cells and panels.
Two now-bankrupt U.S. solar panel manufactures, Suniva and SolarWorld-Americas, are petitioning the U.S. International Trade Commission to impose a 40-cents-a-watt tax on all imported solar cells. While we're at it, they also want a minimum price of 78 cents per watt on imported solar panels. The firms claim they were subject to unfair competition from Chinese manufacturers who benefited from a Chinese government subsidy. What the petitioners don't mention is the 30 percent tax credit for solar panel installation, a government subsidy started in 2005 under the Bush administration.
The subsidy says we want cheaper solar costs to encourage more solar projects. Tariffs on cheaper imported cells and panels say we want higher-cost solar projects. The left hand (subsidy) would say we want more solar. The right hand (tariffs) would say we want less solar. This is plain goofy.
Free-market advocates generally dislike all import restrictions on principle. That they might also be skeptical of the wisdom of force-feeding a switch out of carbon-based energy is irrelevant to their assessment of the tariff. If the global-warming pessimists are right and we should be rapidly substituting out of fossil fuels into solar, then by all means we should buy the cheaper solar cells from China. But what if the global-warming pessimists are wrong and we should not be rapidly transitioning from coal to solar cells? A good free-marketer will say we should let an unsubsidized solar industry install fewer solar panels, but we should still buy the cheaper ones from China.
But why does SEIA favor importing cheap Chinese solar cells and panels? Doesn't this go against the interests of their U.S. solar-panel makers? The answer is, SEIA is an umbrella group representing the whole spectrum of solar-power firms, from engineering through production to installation. It has judged that the interest of its members is more in cheap solar panels for solar planners and installers than in protecting a couple of domestic solar-panel makers. Hence the alliance with outfits like ALEC and Heritage.
Strange bedfellows indeed.•
__________
Bohanon is a professor of economics at Ball State University. Styring is an economist and independent researcher. Both also blog at INforefront.com. Send comments to ibjedit@ibj.com.
Please enable JavaScript to view this content.