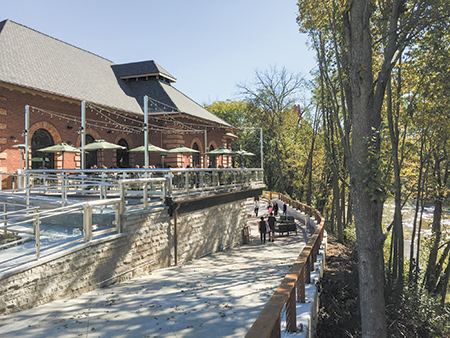 For many, a trip to Columbus means an obligatory stop at Zaharakos Ice Cream Parlor (329 Washington St., 812-378-1900), where the house-made ice cream comes in fresh-baked waffle bowls and the vintage decor and tchotchke-packed walls provide endless opportunities for games of I-Spy.
On my most recent trip, though, I went with two newer additions to the local dining scene (not difficult, since Zaharakos opened in 1900). Both offered pleasures both culinary and visual.
At Columbus Pump House (148 Lindsey St., 812-799-3587), the setting is a key player. The glorious, riverside building designed by architect Harrison Albright and opened in 1903 has been the subject of a major renovation project and is now the latest in the growing collection of Upland Brewing Co. dining locations.  
The bright pub now offers plenty of breathing room in multiple dining spaces, a substantial bar at its center, family dining spots and a deck that's pet-friendly. More than a dozen taps keep the Upland libations flowing. Needing to keep my focus, though, I concentrated on food for my lunchtime stop-in.
(Photo courtesy of Don Nissen)
Tis the season for Grilled Street Corn ($7.99), and here the cobs are slathered with butter, cojita cheese, chili flakes and jalapeno-cilantro aioli for a juicy, chin-dribbling crunch. Buffalo Chili ($4.50/$6) mixes big chunks of locally sourced meat with a three-bean blend, accented with Upland's Bad Elmer's Porter. A relative newcomer to the menu, the Salmon B.L.T. ($12.25), filled a pair of toasted sourdough bread slices with a thick piece of Scottish salmon, bacon, lettuce, juicy tomato and lemon-herb mayo for a seafood sandwich I'd stack against just about any pub version elsewhere.
A short walk from the center of town, Columbus Pump House is also the site of a weekly Drinking About Design discussion run by the Exhibit Columbus organizers that regularly draws dozens of locals.
For dinner, I paid a visit to Henry Social Club (423 Washington St., 812-799-1371), which, contrary to its name, does not require membership. But I do strongly suggest reservations for this downtown spot, particularly if you want to sit at the showcase chef's table in the open kitchen.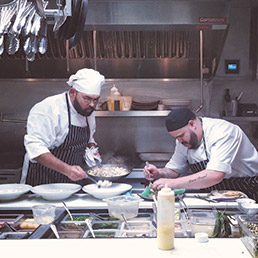 Henry Social Club's open kitchen allows for up-close witnessing of the chef's creations. Reservations are recommended. (Photo courtesy of Henry Social Club)
Designed by Nikki Sutton and presided over by chef Gethin Thomas, a former executive chef at Cummins, the restaurant is intimate but not intimidating, with a smart sectioning to accommodate first dates, business meetings, large groups and even family dining.
From the summer menu, a basket of house-baked breads ($5) started things off nicely, with cornbread, focaccia and sourdough paired (or trio-ed?) with salted butter, olive tapenade, and a house jam of orange and pineapple. Pork Belly Steam Buns ($9) mixed kimchi, cucumber, hoisin sauce and roasted cashews into the soft shells.
Entrees include Handmade Linguini ($19) with capers and kalamata olives, Quinoa ($18) with aromatic vegetables, carrot puree, chickpea, spinach and a vegetable demi-glace, and Filet Mignon ($30). I opted for Pan-Seared Cod ($23), which expertly provided a crunch along the edges of a substantial piece of fish parked in a bed of parsnip puree, sweet corn, sugar snap peas, parsley, garlic and lemon zest. The bed of vegetables would have been satisfying on its own. And Sophia's Butterscotch Pudding ($6) gilded its deliciously creamy lily with candied hazelnuts and whipped cream, playfully served in a Mason jar.•
—Lou Harry
Please enable JavaScript to view this content.