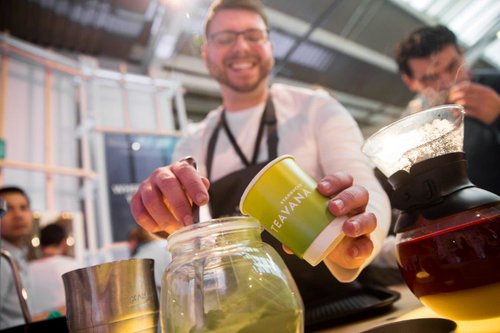 In an unusual legal move, Simon Property Group Inc. has sued Starbucks Corp. over the coffee giant's plan to close 78 Teavana stores in its malls across the country.
Indianapolis-based Simon, the country's largest shopping mall operator, says in the lawsuit that Starbucks is breaching its leases by closing the Teavana stores and "shirking its contractual obligations at the expense of Simon's shopping centers and the dozens of communities they serve and support."
In the suit, filed Aug. 21 in Marion Superior Court, Simon said it is seeking temporary and permanent injunctions preventing Starbucks from closing the stores.
Seattle-based Starbucks announced July 27 that it planned to close all 379 of its Teavana stores in the next year, with most closures taking place in the spring of 2018.
Simon, though, said Starbucks recently indicated that it intends to close the stores no later than Dec. 31. The mall landlord said only two of its Teavana leases expire prior to the spring and the other 76 extend as far as January 2027.
"In order to successfully operate its shopping centers, Simon depends upon each tenant fulfilling the covenants in their respective leases," the company said in its suit. "Crucially, each of Simon's tenants promises that it will open and operate continuously for the entire term of its lease."
In the Indianapolis area, Teavana operates at Circle Centre mall, the Fashion Mall at Keystone, Castleton Square Mall and Greenwood Park Mall.
In January 2013, Starbucks—then led by Howard Schultz—bought the Atlanta-based tea retailer for $620 million. At the time, Teavana had about 300 stores. Schultz predicted the business would swell in size and that his company "would do for tea what we did for coffee."
In April, the same month Kevin Johnson took the helm as CEO, Starbucks said it was disappointed in the performance of the Teavana stores and was reviewing its options. Three months later, Johnson cited declining foot traffic in malls as a reason for closing the stores. With "that headwind and with all of the work we have done to reinvent the store, it just couldn't overcome that," Johnson said.
That comment didn't sit well with Simon, which said in the lawsuit that it was intended "to deflect blame from itself and avoid adverse investor reaction." Simon noted that just a year ago Starbucks had boasted that its tea business was growing rapidly.
In the lawsuit, Simon said it has seen a long line of retailers close mall stores in recent years because of "financial distress," including Sears, Sports Authority, Gap, Ralph Lauren, Finish Line, Macy's, Nine West, Rue 21, Jones New York, American Eagle and others.
"Those retailers, at least, claimed closure was necessary to avoid bankruptcy, and that staying open and fulfilling their leases would cause them financial ruin," Simon said in the suit. "That obviously is not the case with Starbucks, which is one of the largest and most recognized companies in the world."
Teavana isn't losing money, Simon said in the suit—it just isn't growing fast enough to fit into Starbucks' business strategy.
Starbucks is a "thriving company" with a market capitalization of more than $80 billion that is coming off a record quarter in which it opened 575 net new stores, Simon said.
"Starbucks' decision to close its Teavana stores is simply an effort to further increase its economic gains at the expense of others," Simon said. "Starbucks does not contend that Simon breached any lease or that Starbucks cannot remain viable if it continues to honor its promises in its leases for stores in Simon's shopping centers. Instead, Starbucks simply believes it can make more money if it violates the leases than if it honored its contractual promises and obligations."
Simon said in the suit that its leasing teams typically begin working with tenants more than a year before leases expire to arrange new leases or to begin looking for replacement tenants. Mass store closings mid-lease disrupt that orderly process, Simon said, hurting the malls themselves and other retail tenants.
"Simon can plan for and address scheduled store closures, but only if tenants fulfill their covenants and operate continuously during the term of their leases," the suit says. "Tenants that do not live up to their continuous operation obligations cause great upheaval for both Simon and their fellow tenants."
The suit, filed by Indianapolis-based law firm Barnes & Thornburg LLP, did not specify how much Simon was seeking in financial relief or damages.
Starbucks officials were not available Sunday night to comment on the suit.
Simon said Teavana stores are "a valuable contribution to the synergistic mix of tenants" in Simon malls.
"A shopping center is not merely a random collection of stores," Simon said. "Rather, it is a co-dependent ecosystem of tenants with a complex system of governance that ensures its wellbeing. Tenants depend on a mix of a certain types of retailers. … Accordingly, Simon enters into long-term leases with its tenants to provide stability in Simon's occupancy rate and tenant mix."
Please enable JavaScript to view this content.