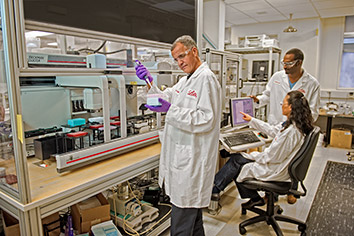 Shares in Eli Lilly and Co. rose nearly 3 percent Wednesday morning after the Indianapolis drugmaker announced it would not have to conduct another lengthy, expensive clinical trial for a long-anticipated immune disorder rheumatoid arthritis drug.
The company said that after discussions with the Food and Drug Administration, it learned that another clinical trial is not necessary after all.
Lilly said it plans to resubmit the drug, called baricitinib, to regulators for review by the end of January. Goldman Sachs drug analyst Jami Rubin predicts the drug could ring up $2.2 billion in sales by 2025.
The news was a surprising turnaround from FDA discussions earlier this year. In April, the FDA rejected the drug, saying it needed substantially more information about baricitinib's safety and the best doses. At the time, Lilly said it would work with the FDA to get the drug approved.
And in July, Lilly said it might have to conduct another clinical trial for the drug, a move that could take 18 months.
Lilly spokeswoman Danielle Neveles said she couldn't speak to why the FDA changed its mind.
"In July, it was pretty clear we would be required to conduct another clinical trial," she said. "Now the FDA has granted us the opportunity to resubmit the drug with additional safety and efficacy data."
The FDA did not immediately return a call from IBJ for comment.
The drug was developed by Delaware-based Incyte Corp. Lilly paid Incyte $90 million for global rights to the drug, and led it through clinical trials. It has already received European approval.
About 23 million people worldwide, three-fourths of them women, have rheumatoid arthritis, a chronic disorder in which the immune system attacks the body's tissues. It causes painful swelling and progressive destruction of joints, which can leave them deformed and, in severe cases, lead to disability. It can also damage other body parts, including the skin, eyes, lungs, heart and blood vessels.
Shares of Lilly climbed to $80.54 in late-morning trading, up 2.6 percent.
Please enable JavaScript to view this content.