The abandoned industrial sites dotting the city's landscape are a tough sell for redevelopment—often hindered by expensive environmental cleanup costs and other challenges.

Finding a buyer historically has fallen to the city's Department of Metropolitan Development, with little success, shackling urban neighborhoods and attempts at revitalization.

City officials now are turning to the not-for-profit Renew Indianapolis to market and sell the industrial sites, adding to its responsibilities reaching far beyond residential properties and vacant lots.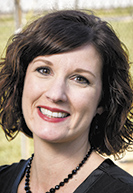 Mack
"I don't think we've done a very good job marketing those properties," said Emily Mack, DMD's executive director. "It was all reactive and not proactive."

Renew Indianapolis was created in 2011 from the ashes of the disgraced Indy Land Bank, a city office whose aim is to return vacant and tax-delinquent properties to the city's tax rolls.

Most residential properties the city purchases have twice gone through tax sales—where the public can buy them by paying the amount of taxes owed—without attracting a buyer.

Renew Indianapolis traditionally has priced the properties no higher than $3,500 and took a fee of $500 to $1,000 on each sale. The city took the rest to help cover mowing and other expenses related to upkeep.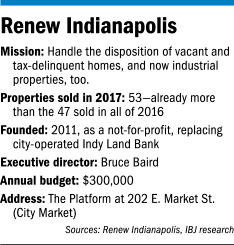 The city and Renew are exploring changes to the pricing and fee structure, now that sites are listed on the Metropolitan Indianapolis Board of Realtors' service, and are considering higher fees for commercial properties, said Bruce Baird, Renew's executive director.

"The more we can make these properties attractive for development, the better off the city will be," he said.

Several of the industrial sites are relatively small and unknown. But others are larger than 20 acres and shovel-ready, such as the Carrier-Bryant property at 1100 W. 21st St.

Carrier-Bryant made furnaces and air-conditioning units there from the 1950s until about 1980. In 1985, the property was sold and used for warehousing hardware-store supplies but has been vacant since 2000. The buildings were demolished in 2013.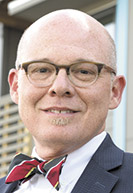 Taft
"There's increasing interest in businesses locating in these types of neighborhoods, but we haven't worked on marketing to them," said Bill Taft, executive director of the Local Initiatives Support Corp.

Other city-owned industrial sites include the former RCA plant property, known as Sherman Park, on the east side, several buildings along the old Massachusetts Avenue industrial corridor, and the former P.R. Mallory plant on East Washington Street just a few blocks south of Sherman Park.

Purdue University's new Polytechnic High School is expected to eventually occupy the building. But in February, the school announced it had signed a lease for The Union 525 building at 525 S. Meridian St.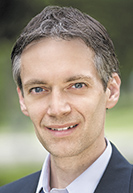 Miller
City-County Councilor Jeff Miller, a director of Renew Indianapolis, said the city barely markets residential properties, let alone commercial sites.

"We have a website and hope someone wanders by," he said. "We're pretty much doing nothing at all."

Baird is out to change that. He arrived at Renew Indianapolis in November from Insight Development Corp., the development arm of the Indianapolis Housing Agency.

Since his arrival, DMD and Renew Indianapolis' board have launched a strategy that has spawned Renew's entry into the commercial sector.

DMD is overhauling its data management system and will unveil within the next few months a "Zillow-like" interface from ePropertyPlus that emulates a private-sector real estate website.

The Metropolitan Development Commission has approved a five-year contract that will pay the Fairfax, Virginia-based company $21,000 annually to provide the software.

Both commercial and residential properties owned by the city also will be listed on MIBOR's site as a result of Baird's standing as a licensed broker. Renew Indianapolis also is reaching out via direct mail to landowners who own vacant property next to land-bank sites in hopes of coaxing them to sell.

In addition, Baird is more aggressively fund-raising for Renew Indianapolis to grow its budget, which currently stands at $300,000. Renew Indianapolis is set to receive more funding after state lawmakers this year passed Senate Bill 310. It allows land banks for five years to collect 50 percent of the property taxes from properties sold from a land bank.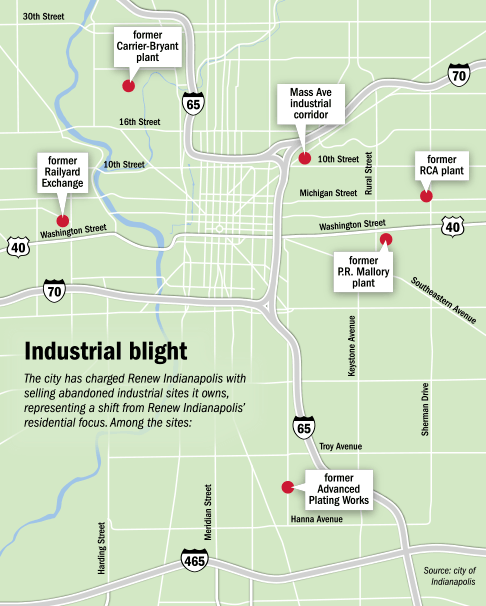 The city still is determining how much money SB 310 will raise for Renew Indianapolis, which might split the funds with DMD. The money likely will help with property upkeep and maintenance.

"It provides a long-term, dedicated funding source, as opposed to pulling from the General Fund," Baird said.

Renew Indianapolis this year has sold 53 residential properties, already more than the 47 sold in all of 2016. The more aggressive approach is part of Hogsett's vision to demolish or rehab 2,000 houses within two years.

The city's land-banking operations have continued to make strides since a federal corruption probe four years ago led to charges against five men, including two city employees.

Reggie Walton, the ringleader of the scandal and former manager of the land bank, in 2015 was convicted on eight felony counts, including wire fraud and bribery, and was sentenced last year to nine years in federal prison.

Another city employee, John Hawkins, along with Randall K. Sargent and Aaron Reed, reached plea deals with federal prosecutors.

Hawkins, at the direction of Walton, orchestrated the transfer of city-owned real estate to not-for-profit entities, which flipped the properties to private investors recruited by Walton's friend Reed, who split the profits with the two city employees

David Johnson, former executive director of the Indiana Minority AIDS Coalition, was sentenced in 2015 to 6-1/2 years after a jury convicted him on five counts that included wire fraud and conspiracy to commit money laundering.

Mack, DMD's executive director, acknowledged the past transgressions without any coaxing.

"Like it or not, it's a part of our history," she said. "Those are some really ugly pieces in our past."•