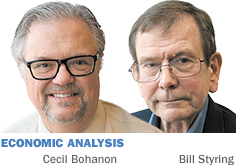 As economists, we're always interested in the economic policies espoused by various groups. Hard-core progressives want to use state coercion to pursue "social justice." Their wish list includes single-payer national health insurance, extensive income redistribution via tax and spend, along with large-scale government regulation of private economic activity. Plus, they want mandatory indoctrination about the evils of oppressive Western civilization's racism, sexism, capitalism, classism, homophobia, etc.
The so-called "alt-right" is a newer phenomenon. The alt-right views white Europeans as socio-political—and economic—victims, and calls for a strong dose of white nationalism and anti-Semitism. Like hard-core progressives, they are ready to whistle up government coercion. And they sure don't like capitalism and free markets.
To the extent the alt-right has a guru-in-chief, it's Richard Spencer. Spencer writes: "It is time for the alt-right to push for a 'public option'—the single-payer system that Obama didn't have the b*lls to implement," because such adoption "moves the territory … towards issues where we [the alt-right] have something to say. When single-payer health care is implemented, issues like food safety, nutrition and obesity become matters of public concern." Translation: Obamacare didn't go far enough. We need single-payer as an instrument to tell others, especially those minority folks, how to live.
Or alt-right advocate Vincent Law: "…when I hear Libertarians spewing their talking points about … the wonders of the free market, I try not to get too angry. … But in a free market, open-border society, Whites lose and they lose big time."
Another alt-right guy goes by the moniker "Ahab." Ahab attacks "Globalist free trade policies" as "neoliberalism." He sounds like an Occupy Wall Streeter. In fact, he proudly acknowledges he was an Occupy Wall Streeter.
And from the pseudo-scholarly alt-right Radix Journal: "from the Tea Party to Republicans to Democrats to leftists … each hope to inaugurate a society organized by individual rights, the market … in which every person will pursue his or her chosen form of 'happiness.'" The implication is that, unlike other political factions, the alt-right wants society organized around group rights, a state-controlled economy and a common vision of collective happiness.
But isn't this what hard-core-progressives also want? Each group wants their fingers on the government coercion buttons to force their vision on the rest of us. As classical liberals, Bohanon and Styring call down a plague on both houses.
Message from today's column: Both the hard-core progressives and the alt-right hate the free enterprise system. Just read their literature.•
__________
Bohanon is a professor of economics at Ball State University. Styring is an economist and independent researcher. Both also blog at INforefront.com. Send comments to [email protected]
Please enable JavaScript to view this content.