Andrew Brake didn't set out to become a backyard chicken coop builder. Indeed, until about seven years ago, he knew nothing at all about bird keeping.

The saga began when Brake, then an employee of Keep Indianapolis Beautiful, was asked by his wife to install a garbage disposal in their Broad Ripple home. Instead, a work friend convinced him to get some chickens. They're natural garbage disposal units, because they eat pretty much any scraps you care to offer them.

"If humans eat it, chickens will eat it," Brake said. "And that includes other chickens."

So he cobbled together a coop and got a few birds. Then he taught a continuing education class about backyard chickens at IUPUI. Then he started the annual Tour de Coop bicycle chicken coop tour (the seventh edition of which takes place Sept. 17).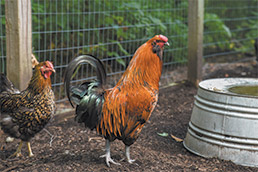 Now Brake is co-owner (with partners Anne Collins and David Struckert) of Agrarian, a SoBro shop that sells supplies for backyard birders. He also owns Nap Town Chickens, where he builds chicken coops, and has pretty much cornered the Indianapolis market.

In the next few years, he'd like to corner a lot more.

It's quite an improvement from the early days, when he possessed no carpentry skills to speak of. It was Struckert who showed him the ropes.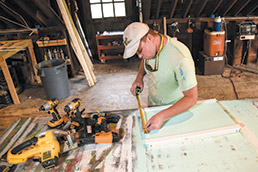 Brake builds chicken coops that range from $650 for the most basic model to as much as $20,000 for a custom design that includes embellishments.
"Dave taught me how to build," Brake said. "I feel like I can build anything now."

At first, he assumed he'd need to build decks and other, more conventional stuff to make ends meet, but it turns out he hasn't. He's done a couple of goat sheds and rabbit hutches, but mostly he just builds coops—about 100 in 2013, and maybe 80 so far this year.

Though the raw number of coops has declined, the complexity of the units has gone up. So has the potential price.

Back in the day, he'd sell one of his coops for maybe $600, equip it with a standard "run" (a fenced area where the chickens can peck around outdoors), and call it good. Now he's investing more time in bigger setups, and his customers are investing more cash.

Custom gigs can cost anywhere from a few thousand dollars to as much as $20,000.

"People who come to me for chicken coops typically know nothing about chickens or coops," Brake said. "So I have to be the person who makes the decision for the customer, which can be an odd position to be in."

For instance, a while back, he decided to talk a patron out of building a coop in a treehouse in favor of a more conventional, ground-based setup. But a couple of years later, when the client persisted in his desire, Brake went ahead and executed the treehouse scheme.

Another customer asked for a standard-size coop (about 4 feet by 4 feet), but wanted a fenced-in run that's larger than the roughly 2,000-square-foot footprint of the Agrarian store. Brake obliged.

"There's no such thing as too much room for chickens," he said. "So if someone comes to me with a $5,000 budget, the run's going to be big."

Brake said that, while a coop itself is generally pretty small, it's still possible to add lots of pricey bells and whistles. For instance, he oversaw the installation of a custom job that included Pella windows and a rooftop cupola. And one client had his outdoor chicken run roofed with shake cedar shingles. It's even more of an extravagance than it sounds, because chickens don't care about rain and neither desire nor use cover.

Brake's lowest-priced coop sells for $650. All his models are equipped with wheels, so they can be easily moved around clients' yards. Though clients sometimes ask for embellishments, he tries to minimize changes.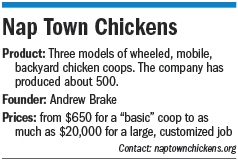 "We try not to do too much customization on the coops, because we've made a chicken coop that works," he said.

One thing his units do really well is keep out predators. That is a big deal, because pretty much any creature with claws or sharp teeth, from hawks to foxes to particularly ambitious rats, will make a run at unprotected chickens.

Hillary Brown, who lives at East 91st Street and Allisonville Road, found this out the hard way when her boyfriend bought her a chicken coop from Home Depot a little over a year ago. Not long after she stocked it with chickens, a raccoon ripped off its door and killed them all. Brown, chastened, sought out Agrarian for advice on how to strengthen the coop. Last March, she also bought a new model from Brake, along with the largest of the three standard runs he builds.

So far, she figures she's laid out north of one grand for her hobby.

"It probably wouldn't have cost that much if our Home Depot coop had been predator-proof from the start," she said. "But I didn't do this for the money. I did it for the fun of it."

Brake said one of the toughest parts of making a living from the backyard chicken community is estimating demand for products and services. Though there certainly seem to be quite a few Indy aficionados, even Brake doesn't have a solid count.

Before Agrarian opened in 2013, Struckert made an educated guess as to how many there might be.

"They were trying to estimate how much chicken feed they were going to sell, so in 2013 they very conservatively estimated there were perhaps 500 chicken coops in the city, and that half would shop with us," Brake said. "I think there are probably 2,000 to 2,500 coops just in Indianapolis now."

The backyard chicken "industry" has taken off so quickly that no trade association or lobbying group keeps tabs on it. That makes gauging its true size next to impossible.

"We are targeting them and trying to get them as members, because it's big," said John Monaco, president of the American Poultry Association (essentially the American Kennel Club of show chickens). "But I don't think anyone is sure about how big."

Monaco said the resurgence in home coops isn't all that odd. After all, up until a few decades ago, keeping birds in your backyard was standard procedure.

"We're getting back to that, and I think it's going to be around a long time," he said. "I think this is more than a fad, and that it will still be around in five years."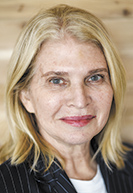 Hoover
One of Brake's most devoted local customers is restaurateur Martha Hoover, owner of Patachou Inc.

Hoover started keeping a backyard flock because she wanted fresh eggs for her weekend baking. Brake helped her set up a spacious, fairly elaborate coop and run, in a corner of her Meridian-Kessler backyard.

"I had very specific ideas as to what I wanted," Hoover said. "He was very flexible and fun to work with."

She wasn't, however, particularly keen on doing all the grunt work associated with keeping chickens. So Brake, as he does for a handful of other clients, was contracted to handle most of the routine coop maintenance tasks.

"It's worked out perfectly for me," said Hoover, whose current setup includes eight chickens and one rooster. "I think Andrew is providing a wonderful service in town."

Brake wouldn't mind expanding his coop-maintenance services. For now, however, his efforts are concentrated on coop production.

During peak construction season (spring and summer), he generally hires two part-timers to help. That's about it for staff. He figures that, since staring the business, he's sold about 500 units. Most are for central Indiana customers, though he recently took one to Cincinnati, and in previous years squired them to owners as far afield as Atlanta and central Tennessee.

"I was putting them on Craigslist in other cities, but not anymore," he said. "Because business has increased so much here in Indianapolis."

Not that his plans don't include more national sales. For instance, he was recently signed up by Wayfair to sell one of his models through the company's catalog.

"I knew before Wayfair approached us that, if we were going to continue to grow, I'm going to have to start shipping these things," Brake said.

Unfortunately, the Wayfair connection isn't panning out as well as he'd hoped. He's not selling a ton of product, and the markup is breathtaking. He sells the units to Wayfair for $900, which then lists them in their catalog for $2,100 (full price) to $1,379.99 (sale). But if you buy directly from him, the same model goes for $650.

"It's going OK, but not great," he said. "They mark it up so much."

The ideal solution would be to sell nationally on his own. Brake has already taken some preliminary steps.

"I started a new business called United Coops of America to differentiate us from Nap Town Chickens, because that's a local name that somebody in Texas won't understand," Brake said.

Ironically, his model for the future is Urban Coop Co., a Texas outfit that moves about 1,500 units a year and eschews third-party vendors.

"In five years, I would like to be where he is at," Brake said.

And also, maybe not work quite so hard.

"I really enjoy the building aspect of it," he said. "But right now, we work seven days a week. I would like to get that down to six."•