King Park Development Corp. is teaming with two homebuilders to construct 60 houses on vacant lots along the Monon Trail—a project that should continue the momentum forming around East 16th Street in Indianapolis.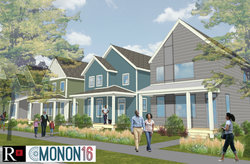 King Park, along with Houston-based David Weekley Homes and the local Re-Development Group Inc., are expected to announce their intentions at an event Friday morning at a site on Alvord Street, where the first home is under construction.
They're calling the project Monon16.
"It's certainly one of the biggest single-family housing developments we've ever been involved in," Steven Meyer, King Park's executive director, told IBJ. "It will really activate the Monon Trail and bring a lot more people to the Monon, at that section.
The lots straddling the Monon extend from East 16th Street north to East 21st Street and were acquired by King Park over the past 10 years. Meyer said the organization spent "several hundred thousand dollars" to buy the lots from individual owners, and through county tax and surplus sales.
David Weekley and The Re-Development Group each will build 30 homes over the next three years, with 20 percent of those reserved for homebuyers meeting affordable-housing guidelines. King Park will provide the subsidy to enable the buyers to essentially purchase a market-rate home at a more affordable price, Meyer said.
Homes will range from the low $200,000s to the high $300,000s to provide a broad range of pricing, with David Weekley building for the lower-end market and custom-builder Re-Development Group targeting the higher end.
"This is so unique that we can do this all at one time," said Patrick Dubach, president of The Re-Development Group. "The key to this is smart growth. We're re-utilizing vacant land."
David Weekley entered the local market in 2011 and has grown to become the eighth-largest homebuilder in the Indianapolis area, in terms of building permits filed, according to the most recent IBJ statistics.
The company is building in The Villas at Saxony and the Village at Flat Fork, both in Fishers, and Jackson's Grant on Williams Creek in Carmel.
The Re-Development Group, meantime, is more familiar with the downtown area and has built in the Fall Creek Place, Herron-Morton, Old Northside and Holy Cross neighborhoods.
Its downtown experience led representatives from David Weekley to approach Dubach about how it might be able to build in the city's core because, unlike custom builders, it's not financially feasible for it to build on one lot at a time.
Dubach immediately thought of the up-and-coming Kennedy-King neighborhood east of Herron-Morton and north of East 16th Street, and met with Meyer at the King Park CDC to begin collaborating, Dubach said.
"He thought it was important to have affordable housing mixed in with market rate," Meyer said of Dubach. "We then decided to bring in David Weekley because they're a different kind of builder. They can hit a lower price point. It allowed us to have a range of housing options available to potential buyers."
Lots on three of the blocks, however, don't even have sewer or water access, because houses have never been situated on them, so utility infrastructure will need to be installed.
The city is exploring what it can contribute for infrastructure needs, in addition to providing assistance with platting, land-use and zoning issues, said Emily Mack, executive director of the city's Department of Metropolitan Development.
The opportunity to participate in such a "transformative" project is what's driving the city to get involved, she said.
"When you look at that area today, and when you think about what it had been for decades, this has been an area where nothing has been happening," Mack said. "This is an area that's on the edge of market momentum."
To be sure, a growing number of pricey new homes are cropping up in the historic Herron-Morton neighborhood, bolstered by the strength of the downtown housing market and the rejuvenation of East 16th Street.
A stretch of the street, from Pennsylvania Street to the Monon, has seen a mix of residential and commercial development, including a handful of condominium and apartment projects, and the arrival of restaurants such as Tinker Street and Festiva.
And north of East 16th Street, at Bellefontaine and East 17th streets, West Fork Whiskey is preparing to join Cannon Ball Brewing.
Please enable JavaScript to view this content.