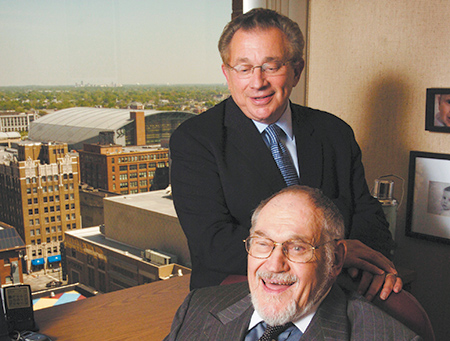 Mel Simon's widow, Bren, has agreed to settle her $21 million lawsuit against the IRS for undisclosed terms—a move that spares the Simon family from the uncomfortable glare of a six-day trial that was set to begin in November.
The spat stems from a February 2009 deal under which Mel transferred his half of the Indiana Pacers to his brother Herb, who already owned the other half. The agreement—reached just seven months before Mel's death at age 82—was never publicly announced and might have gone unnoticed had the team's media guide for the following season not described Herb as the sole owner.
But in recent years, that low-profile deal has created plenty of legal fireworks. First, in 2013, the IRS concluded the deal was so tilted in Herb's favor that Mel essentially gave Herb an $83 million gift. It then ordered Mel's estate and Bren to each pay $21 million in gift taxes and interest. They both did so, but she circled back in 2015 and sued the agency in federal court in a bid to recoup the money.
Also in 2015, Herb filed a highly redacted lawsuit in Hamilton County seeking a declaration that the team was his alone. The maneuver was aimed at Bren, who court records show is contending that an unspecified "interest" in the team passed to her.
The case—which remains open but has not moved forward, for reasons that aren't clear—appears to stem from Bren's assertion that the ownership restructuring eliminated Mel's 50 percent stake but left him as a member of Pacers Basketball LLC, which carries with it certain rights.
Having Bren in the picture could be problematic for Herb, 82. She has had strained relations with many Simon family members, and has been known to make derogatory remarks about the team.
The IRS lawsuit also did the family no favors. It prompted the agency to launch a no-holds-barred analysis of what the team was worth when Mel and Herb struck their deal—an effort that dragged in the Pacers and the Capital Improvement Board, both of which fought subpoenas. The IRS said last year that it had hired valuation experts to review everything from ticket sales and player contracts to media contracts and naming-rights deals.
All Bren's suit reveals about the terms was that "Mel received substantial consideration … including, without limitation, the termination of his continuing obligations to fund losses and answer mandatory capital calls, a release from personal guarantees," and the right to a cut of proceeds if the team were sold. It does not specify that Herb paid cash to Mel.
For Bren, one risk of proceeding to trial would have been that the court would conclude the value of Mel's gift to Herb was even higher than $83 million—a scenario that would have forced Bren to pay additional gift taxes. At the time the deal was struck, Forbes magazine, in its annual ranking of NBA team values, said the franchise was worth $303 million.
In her lawsuit, Bren's attorneys had argued that Mel received "full consideration" for his half of the team. They said in a court filing that "Herb and Mel were savvy and experienced businessmen, both skilled in making business deals and interested in striking the best deal for themselves."
But emails the IRS amassed during discovery, and deposition excerpts it has filed with the court, suggest the parties took no steps to seek outside validation the terms were fair—despite the apparent complexities of valuing a major sports franchise.
Perhaps most damaging to Bren's case is an email Indianapolis attorney Robert Salyers—a longtime friend and legal adviser of Herb's who served as Pacers president in the early 1980s—dashed off to Herb and others in November 2008 regarding NBA approval of the deal.
"I believe that most of the owners that think about it at all will understand that this is a transaction between brothers and probably not a market deal," Salyers wrote.
A Sept. 7 court filing says that during settlement negotiations last month, Bren Simon submitted the settlement offer, which the Justice Department legal team representing the IRS has recommended for acceptance. The parties have halted proceedings as the deal advances through the Justice Department's multi-layer approval process.
David Herzog, a Faegre Baker Daniels partner representing Herb, declined to comment, as did a Justice Department spokeswoman. An attorney for Bren Simon, 74, did not respond to requests for comment.
According to Bren's lawsuit, Mel in 2007 had approached Herb about selling the team, saying he was tired of infusing millions of dollars into the franchise to keep it afloat and frustrated over the team's negative image in the wake of the infamous November 2004 brawl in Auburn Hills, Michigan.
In her suit, Bren expresses contempt for the Pacers during that period, calling them "a civic and family embarrassment."
Court records don't specify her role in fashioning the deal with Herb. By the time it was struck, Mel was suffering from dementia and other debilitating conditions, according to a lawsuit filed by his children in 2010.
Mel and Herb bought the Pacers for $11 million in 1983. According to the latest rankings from Forbes, the team now is worth $880 million.•
Please enable JavaScript to view this content.