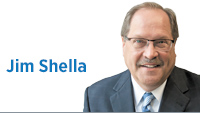 Football season is here, my favorite time of year. Yet, it is hard to ignore that football in this country is on the decline.
The potential consequences are significant for fans like me (I own Colts season tickets) and for everyone.
That's because football is big business. A 2011 study found the NFL took in $9.5 billion a year. Another $5 billion was added to the economy in NFL cities. That's without mentioning the economic impact of college or high school football. Do you think all those local stadiums were built because they lose money?
Football is especially important to Indianapolis. The Colts' move from Baltimore changed the way this city is viewed, by the people who live here and by people from around the country. We are now major league and the new stadium helps attract convention business throughout the year.
But TV ratings for football are down (8 percent last year, according to one report), and youth participation is, too. That means, in 20 years, the best athletes might be playing a different sport (see baseball). Concussion fears, bad publicity related to domestic violence and political protests, and poor decision-making from NFL leaders are causing casual fans to look the other way. Soccer is on the rise, and some parents won't let their children play football even if that's what they want to do. A state championship coach recently walked away from the game citing safety concerns.
I read a Facebook post that compared football to boxing. In the '60s and '70s, boxing was huge in this country. When Muhammad Ali fought Joe Frazier, arenas across America sold out just so people could see the bout on closed-circuit television. Olympic boxing was almost as big. (Remember Teofilo Stevenson?) Now, boxing is a minor sport. I challenge you to name the current heavyweight champion of the world.
You can make the argument that Ali, the most recognized fighter ever, was responsible for boxing's popularity when he was in his heyday. When Parkinson's disease (caused by blows to the head) took away his health and eventually his life, boxing became much less attractive to fans and participants.
And so it is with the NFL. One-time star players are becoming victims of the violence that is inherent in the sport and the public is paying attention.
If I could insert a personal note, I love football because I played it as a youth and I count my experience as a high school football player as one of the best of my life. I learned teamwork and leadership and had fun.
I also received a serious concussion and, in my late 20s and early 30s, endured a series of migraine headaches that produced concussion-like symptoms.
I should point out that I also received concussions playing basketball and baseball, and even got one sliding on an icy sidewalk. If the migraines were the result of football, in my opinion, it was still worth it.
Nevertheless, football is changing. The coach who ignored my initial concussion symptoms would not be permitted to react that way today. New rules and equipment changes make it much safer than it once was. But football will never be risk-free. That's the attraction.
The stewards of the game need to find ways to preserve it.•
Click here to see all of the latest Forefront columns.
__________
Shella hosted WFYI's Indiana Week in Review for 25 years and covered Indiana politics for WISH-TV for more than three decades. Send comments to ibjedit@ibj.com.
Please enable JavaScript to view this content.