Nathan Feltman won't be mimicking reporters when the new part-owner of IBJ Corp. takes copious notes as he makes rounds at the company's downtown office in the coming days and weeks.

The 47-year-old Hoosier native has chronicled conversations and jotted down thoughts and ideas in notebooks for years. He has stacks of them and references them often.

The Carmel resident used note-taking to learn the ins and outs of state government when, in 2005—with no political or government experience—he took a job on Gov. Mitch Daniels' staff.

Feltman also relied on heavy-duty note-taking when—with no experience in the health care arena—he became co-owner of Home Health Depot in 2010.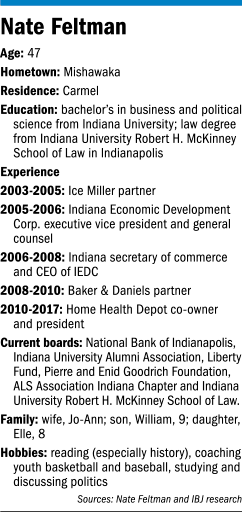 Under Daniels, he became secretary of commerce and CEO of the Indiana Economic Development Corp. before departing government to return to the practice of law.

Revenue at Home Health Depot, a medical-equipment provider, more than tripled in the first five years Feltman was part of the operation, peaking at $32 million in 2014. The company was sold this summer to Florida-based Lincare Inc. for undisclosed terms.

IBJ co-owners Michael Maurer and Bob Schloss, who also were shareholders of Home Health Depot, announced on Sept. 15 that Feltman had become an equal partner with them in IBJ Corp.

Each now owns one-third of the company—the parent of IBJ, The Indiana Lawyer and Court & Commercial Record. Maurer and Schloss each had owned 50 percent since buying IBJ Corp. 27 years ago.

Maurer, who, along with Schloss, turns 75 this year, said there's a good chance Feltman will become majority or even sole owner of IBJ in the coming years.

Feltman met Maurer in 2003 and said he views the longtime entrepreneur as a mentor. He said he looks forward to continuing to learn from him, as well as others at the 50-employee company.

"I do take a lot of notes," he said. "I never make a quick, off-the-cuff decision. I would like to come in and see what everyone there is seeing in the marketplace, what they see as challenges and opportunities."

Feltman said he'll start by meeting with department heads. But he won't stop there.

"I have a plan to meet with and hear from everybody," he said, recalling words of wisdom he jotted down in 2005 that came from a Japanese auto executive.

"He said the best ideas for growth and change often come from guys on the line, not in the C suites," Feltman said. "They're the ones who often first see the opportunities and challenges."

Maurer, who remains IBJ's managing partner, said Feltman will play an important role in seizing opportunities for growth.

"Nate is full of ideas," he said. "We're sure going to listen to what he has to say."

For now, Feltman is keeping those ideas close to the vest, though he did express interest in launching podcasts and in using the internet to expand the reach of IBJ Corp.'s publications beyond the local market.

"I believe we have great content today, and content people crave," he said. "But I think there are areas in terms of content where we can jump in in a bigger way. And I think the internet gives us an important opportunity to have an audience beyond central Indiana."

But first, Feltman acknowledged, his ideas need vetting.

"I don't have preconceived notions that things have to be this way or that way," he said. "I have a style and methodology. … I am a guy who likes to work in a team way. I'm very much a collaborator."

He added: "I want everyone in the organization to understand the challenges and opportunities," he said. "You get the best results when as a team you drive collectively toward your goals."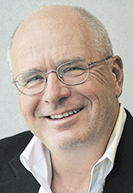 Krull
John Krull, a longtime journalist and director of the Pulliam School of Journalism at Franklin College, said he doesn't think it should be a concern that Feltman has no media experience.

"No one has discovered the silver bullet for transitioning from the old model of journalism to a new model that you can monetize in the new digital era," Krull said. "Even those with lots of media experience have yet to figure that out. We need to look afresh at how we look at and offer our services. So perhaps it's an advantage to have someone with no preconceived notions."

IBJ Publisher Greg Morris said he's optimistic about Feltman's arrival.

"He's very analytical and I think he'll bring in a new way of looking at all the issues we're dealing with … growing the company at a time when newspapers have been retracting."

Yet Abe Peck, director of business-to-business communications at the Medill School of Journalism at Northwestern University, said Feltman faces a steep learning curve.

"He'll be dealing with things that, quite frankly, his predecessors never had to," said Peck, a former reporter and editor for The Chicago Sun-Times and Rolling Stone.

"He has to figure out a way to punch through the unprecedented amount of clutter people encounter today. And he has to understand that, as much as things have changed in this industry, they aren't done changing. In two or three years, he'll likely face a new set of problems he never considered before."

Peck added: "Print media executives have to understand a whole different audience is looking at your product online than in print—and vice versa. You have to come up with a business strategy to deal with that."

Amid all the challenges, it's a good sign for the industry that an experienced businessman like Feltman sees buying a newspaper as an opportunity, Krull said. "That should count for something."

Peck isn't surprised Feltman sees value in IBJ Corp.

"I'm all about niches," Peck said. "If you get the right 20,000 people—decision-makers and influencers in the area you care about—reading your publication, you can be in hog heaven."•