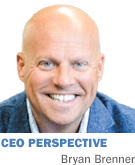 As buzz about a second Amazon headquarters quickly spread across the nation, Indianapolis rightfully rose to the top as a likely location. This area has so many obvious qualifications: existing Amazon operations, central location, unmatched logistics capabilities, international airport, great workforce … the list goes on.
Unfortunately, other communities can claim those same qualifications. So, what factors set central Indiana apart in the race for Amazon's HQ2? One quickly rose to the top: our connectedness.
This came to mind in part as a result of a panel discussion in which I participated earlier this year. Part of an Urban Land Institute series, the discussion explored what it will be like to live and work in Indianapolis in the next decade or two.
It was a lively exchange. Light rail was dismissed as improbable, given the advent of self-driving cars and the bifurcation of neighborhoods Indy is working hard to rejuvenate. Promise is seen in the way market-rate apartments and downtown commercial spaces are opening in old and new spaces, attracting that multigenerational workforce that craves an urban setting. Indianapolis' high-tech startups also offer great potential.
In the course of the conversation, the Indianapolis Cultural Trail was applauded as a success—and that's what prompted my thoughts about connection. In the Cultural Trail I see a great metaphor for our region's connectedness, and an example of how we can make the most of our connections.
Certainly, the Cultural Trail is an example of how we are physically connected. Like our existing and evolving transit and transportation system, it reaches across boundaries and through formerly disconnected neighborhoods to make new connections. But the trail also represents, in the way it reaches so many and how it came together, the way this community has historically linked ideas with visionary people for amazing results.
The story is now Indy lore: City leaders in 1999 designated six cultural districts for the purpose of linking and promoting connections across town: Mass Ave, Fountain Square, The Canal and White River State Park, Indiana Avenue, the Wholesale District and Broad Ripple. Brian Payne, then and now president of the Central Indiana Community Foundation, was convinced these cultural districts could be connected by an urban version of the Monon Trail.
Almost single-handedly, Payne cast vision to some of Indy's biggest champions—philanthropists Gene and Marilyn Glick, Myrta Pulliam and Lori Efroymson-Aguilera. He persuaded Mayor Bart Peterson and the city of Indianapolis to provide right of way to the trail's proposed path. He hired a design team and a builder. And he stayed the course during the 2008 economic crash, pursuing federal grant money—a $20 million award from the U.S. Department of Transportation.
Today, the Cultural Trail has become a significant part of Indy's appeal to visitors, residents and companies looking to expand. It has reconnected our city, from Fountain Square and the East 10th Street corridor, to City Market and the banks of the White River near IUPUI. Even Broad Ripple is connected, as the Monon Trailhead dumps into 10th Street.
Indy offers plenty of opportunities for other types of connections. It's a place you can join in. You don't have to be a native to quickly engage and make an impact here. People in Indy seem to have an appreciation for collaboration across private, public and not-for-profit sectors that produces a better community for most.
People thrive on making connections. It's how we learn—connecting one idea to another—and how we belong. Those of us who belong to Indianapolis need to believe we are a world-class city. We offer a great lifestyle and increasingly attractive employment. We're addressing issues facing urban renewal in thoughtful ways. Many organizations are tackling the needs of urban residents who struggle. There's much more to do.
Our challenge now is to take the blueprint offered to us by the Cultural Trail. How do we build on our existing infrastructure of connections, and expand webs of connections to other webs of connection? If we learn to do this consistently, we'll be at the very top of the list for Amazon's HQ2, as well as every organization looking for a great place to call home.•
__________
Brenner is founder and CEO of FirstPerson.
Please enable JavaScript to view this content.