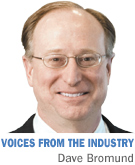 With more than one-third of America's children overweight or obese, we need to ask what legacy we leave for them, who should be accountable and how can we make better health and wellness a culturally universal trait. To address these issues, the Robert Wood Johnson Foundation recently launched its "Culture of Health" initiative based on the premise that "everyone deserves to live the healthiest life possible" and "health should mean more than just not being sick."
In Washington, our political leaders lack consensus on an appropriate path to further health reform. Closer to home in more civil society, we are taking smaller but important steps down the path toward fulfilling the promise of a culture of health. Families, savvy employers and wise leaders in our broader community are striding down that path.
At work, a culture of health means more than paying employees to improve their health. The Affordable Care Act increased economic incentives for employer wellness programs, but experts say that economic incentives for improved health don't work in an unhealthy work environment. So, employers of choice are adopting next-generation wellness programs that also promote organizational health and build a culture of health at work.
Most wellness programs screen for smoking and obesity and may include biometric screening for health risks like cancer, high blood pressure and cholesterol. Smart employers provide more—including follow-on programs, healthy food options, vaccination programs, encouragement for positive health behaviors and physical activity, educational seminars, fitness centers and more. Next-generation programs go beyond reducing health risks to emphasize broader "value-on-investment" metrics for the business, such as attracting and retaining the best talent and increasing job satisfaction, engagement and morale. New programs include incentives focusing more broadly on wellness and aiming to tap intrinsic motivation and allowing choices for personal autonomy.
To track and improve the quality of workplace and workforce health, the American Heart Association has developed a Workplace Health Achievement Index. The AHA says it established the index and related resources "because good health is good business." AHA resources include a Workplace Health Playbook and an evidence-based expert resource library. The playbook collects best practices of leading employers across the country.
Among the playbook's recommendations is to leverage partnerships. Because few employers can offer stand-alone, comprehensive workplace health-promotion programs, the playbook encourages employers to take advantage of programs that may already be in place within an organization. Community organizations, such as health departments, health plans, provider groups, local gyms, YMCAs, faith-based organizations or health clinics can provide health-related programs and services. And vendors in the human resources area may offer health education and lectures and even monitor and evaluate program impact.
To increase engagement, the playbook recommends including family members in program activities. Extending services to family members is one element of fostering a culture of health.
In our larger community, a culture of health improves population health. Population health recognizes that we are in this together. Fortunately, our local business, not-for-profit and civic leaders promote a culture of health in many ways. Examples include Eagle Creek Park, linear parks like the Monon Trail and the Indianapolis Museum of Art's 100 Acres sculpture garden.
More recent examples include the Indianapolis Cultural Trail urban park and the Sports Legends Experience under construction at The Children's Museum of Indianapolis. It's described as an "immersive family sports and fitness experience designed to encourage and inspire physical activity in everyday life." Not-for-profits, including Indy Runners, sponsor training events daily for runners, joggers and walkers from great venues like the Monon Trail, the Central Canal Towpath and Fort Harrison State Park.
Individuals and families are accepting more personal responsibility for their health and incorporating physical activity into their lifestyles. Choices on how to stay active are endless and personal for each family and family member. The AHA's playbook rightly notes that living an active life is one of the most rewarding gifts you can give yourself and those you love. Simply put, daily physical activity increases your length and quality of life.
For virtually our entire existence, humans moved to live as hunter-gatherers. In our brief moment on the path of human history, we still must move to live.•
__________
Bromund is a partner in the law firm Taft Stettinius & Hollister LLP. His practice focuses on health and business law.
Please enable JavaScript to view this content.