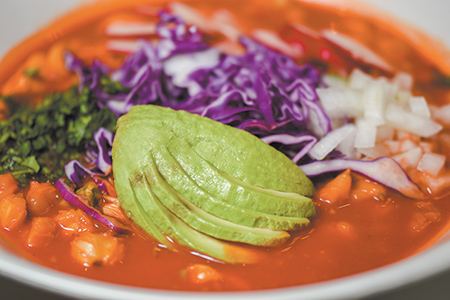 Sometimes, local foodies get a little defensive when it comes to restaurants. And with good reason. For years, we watched customers fill the parking lots of chain eateries while worthy locally owned and operated spots struggled.
The times have certainly changed with the value of local spots being more appreciated as a core element in the city's culture and identity.
But there's also a bit of a backlash, with noses turned up at the very idea of "another chain" sullying our landscape.
Which is one of the reasons it took me a while to get to Los Arroyos (11503 Spring Mill Road, Carmel, 317-810-1747), the small Santa Barbara-based group that has opted for Indiana as its first outpost beyond the California border. What could another chain Mexican restaurant bring to that already ubiquitous segment of the market?
Well, as I discovered, quality food, good service and creative enough work from the kitchen for a very satisfying meal.
We could have gotten lost in the hearty bowl of Pozole ($16), a rich red soup with chicken or pork garnished with avocado, cilantro, radish and corn. Asado a la Nortena ($24) translated to an ample grilled ribeye steak upgraded with Anaheim chile stuffed with queso fresco, avocado, and housemade chimichurri sauce. Instead of the usual refried beans, Los Arroyos sides with frijoles charros, pinto beans traditionally cooked with onion, garlic, tomatoes, salted pork and chilies. It's the kind of touch that makes a difference. The pleasures of a supplemental Chile Relleno ($7.50) were in the details, with sesame, aubergine (eggplant) puree and burnt aubergine jelly.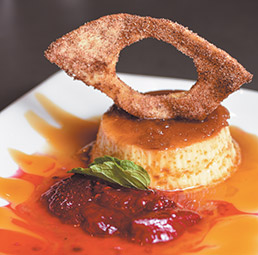 Desserts include flan decked out with a cinnamon cookie, berries, and mint. (IBJ photo/Eric Learned)
The only downside was the Runaway Burrito ($12), which was fine but wasn't particularly well mixed—a common problem with burritos where one bite gets you beans, another chicken, etc. It also carried a $2.50 upcharge for rice, which smacked of gouging.
For dessert, we passed on an Apple Pie Taco ($8) or Churros ($7.50) in favor of Homemade Flan ($6.50), a dish as lovely as it was tasty. Wild berry chutney and fried mint proved outstanding touches, surprisingly complementing the caramel in the staple custard.
We limited ourselves to Horchata ($2.50), but Los Arroyos also offers 14 margaritas and more than 60—yes, 60—tequilas. ¡Salud!
And a belated welcome to the neighborhood.•
Please enable JavaScript to view this content.