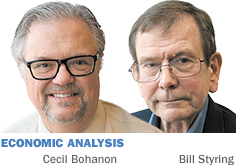 If you paid the slightest attention to the news coverage of Harvey and Irma, you saw Republican attorneys general of Texas and Florida popping up on CNN. Their message was: "We have laws against price gouging, and I ain't gonna have no stinkin' price gouging in my state! Anyone caught selling necessities at too high a price will be drawn, quartered and placed on a list next to that of known child molesters." (OK, we made up that last part.)
But it fits with the opprobrium dumped on "gougers." Florida's anti-gouging law is representative. Once an official emergency has been declared, it's illegal to sell any "essential commodity," such as food, water, gas or ice, at a price higher than the average 30-day, pre-emergency price. That's fair, isn't it? Just because a hurricane came along, no one should charge outrageous prices for the necessities of life, right?
Think a little harder. Prices are how resources are directed to their highest valued uses. A higher price says both "use less" and "we want more."
If you watched the news carefully you also saw near empty shelves and shopping carts loaded with whatever people could get their hands on before the hurricanes hit. The higher "use less" price signal wasn't flashing. The "we want more" price signal was also suppressed.
Consider a humble $5 bag of ice in a supermarket somewhere in Georgia. Two days after Irma roars through, there are doubtless many people in southwest Florida who would gladly pay, say, $50 for that $5 bag. In Georgia, it's worth 5 bucks. In south Florida, it's worth 50 bucks. So Joe, who owns a big-bed pickup, loads up on $5 Georgia ice, visits his local sawmill to get some sawdust to keep it cold and heads south. Visions of a several thousand dollar profit are dancing in his head.
It's risky. Roads may be blocked or flooded. Law enforcement may be spotty, leaving him vulnerable to looters. But Joe makes it south, sets up on a street corner with his "ICE $50" sign, and customers come. The first three walk away with $50 ice. Unfortunately, the fourth person is a Price Cop. "You can only sell $5 ice." Joe is arrested. Joe's customers would have preferred $5 ice, of course, but their real choice was $50 ice or no ice.
Sitting in his cell Joe thinks, "Next time I'll stay home and watch football."•
__________
Bohanon is a professor of economics at Ball State University. Styring is an economist and independent researcher. Send comments to [email protected]
Please enable JavaScript to view this content.