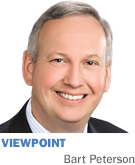 I thought of a dozen well-known quotes to use to kick off this piece, but they all seemed trivial against the reality of one of the world's most important global health programs being run from right here in Indianapolis. Many of you have heard of AMPATH, or the IU/Kenya program, led by the Indiana University School of Medicine. Of the many achievements we have seen during our city's rise over the last 50 years, I'm not sure anything compares to AMPATH in terms of impact on humankind.
The city of Eldoret in western Kenya is just a little smaller than Indianapolis. But while the two cities are on the same planet, they occupy two very different worlds. The epicenter of the global HIV/AIDS crisis has been sub-Saharan Africa. The human tragedy—adults dying in their prime years, children born with HIV infection, entire communities torn apart—is known intellectually to those of us living in the American heartland, but watching family members and neighbors die and seeing villages full of orphans has been reality for the hundreds of millions of people living in sub-Saharan Africa.
Work in Kenya by IU professors and clinical physicians doctors Bob Einterz, Joe Mamlin, Dave Van Reken and Charlie Kelley in the 1990s led to the formal creation of AMPATH—Academic Model Providing Access to Healthcare—in 2001. AMPATH quickly became one of Africa's largest and most effective HIV/AIDS programs with support from the governments of both Kenya and the United States.
Never losing sight of its original mission, AMPATH has evolved into a comprehensive health care system serving more than 4 million people at more than 500 clinical sites. That is like running the entire health care system of an average-sized U.S. state. Last year, AMPATH opened a $5 million cancer center in Eldoret. Its new population health initiative will be sub-Saharan Africa's first comprehensive, integrated health care network, with high-quality, low-cost health insurance available to all network members.
Five hundred medical students from IU have received training in Kenya, and lessons learned from AMPATH research in Kenya have been applied back here in the United States. Recently I had the opportunity to meet some of the hundreds of medical students from the Moi University School of Medicine, one of AMPATH's Kenya partners, who have come for training in Indiana.
As one might expect, they see a medical school and health care delivery system here with resources and technology they could only dream of. But dream they do, and their demands for more advanced facilities and equipment will improve health care in Kenya and in other parts of the developing world. Perhaps as importantly, the future physicians from both sides of the partnership will see the world through a completely different lens. They will be better doctors and better global citizens.
In the global health world, those who have seen the work of AMPATH are in awe. But AMPATH concentrates on the substance of its work and not on bragging about what it does. I've heard more than one expert in the field acknowledge that the programs they are associated with gather more accolades than AMPATH without having a fraction of the real-world impact. That needs to change. It's time the world came to understand—and support—the extraordinary work being led from our city. And that starts with us here in central Indiana. We have so much to be proud of. AMPATH ought to be at the top of the list.•
__________
Peterson is a former Indianapolis mayor and chairman of the AMPATH Development Board.
Please enable JavaScript to view this content.