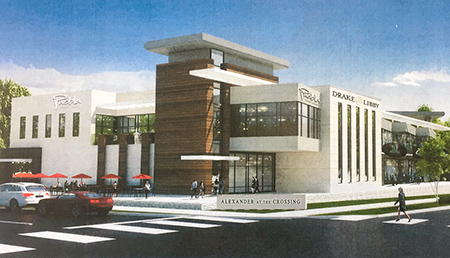 A portion of woodlands along East 86th Street near Keystone at the Crossing has received a reprieve from commercial development.
The Metropolitan Development Commission on Wednesday, by a 5-3 vote, rejected a request from local developer Keystone Realty Group to rezone 5.8 acres of the 16-acre site to make way for a $20 million, 60,000-square-foot office and retail building.
"With this decision, the commission struck a decisive blow for the preservation of forest and green space and quality of life … and against business as usual," Jeff Stant, executive director of the Indiana Forest Alliance, said in written comments. Stant had testified about the potential increase in flooding and stormwater runoff that could be triggered by the development.
The site is located at the northwest corner of East 86th Street and North Keystone Avenue, just west of the Fashion Mall and across from the Ironworks apartment and retail building.
Keystone Realty's development, called Alexander at the Crossing, would have featured 30,000 square feet of ground-level restaurant and retail space, and 30,000 square feet of second-floor office space.
"We're so happy that the commission sided with the community and people," said Stacey Clark, a resident of nearby Driftwood Hills. Clark testified against the development, saying it would decrease neighborhood safety with the increase in faster traffic. The Nora Community Council had voted 9-2 in June to oppose the development.
Led by Indy Eleven owner Ersal Ozdemir, Keystone Realty first filed its development plans with the city in December. But it received several continuances as it attempted to gain acceptance from neighbors.
Among the changes it proposed: reducing the amount of parking by roughly 70 spaces, to about 290, and building an underground retention system to spare it from cutting down more trees.
It wasn't enough to sway the neighbors, several of whom attended Wednesday's MDC meeting.
"We don't need more commercial space; we need more green space," Clark told commissioners.
Department of Metropolitan Development staff recommended denial, partly due to the city's comprehensive plan for the area calling for residential development at 1.75 to 3.5 units per acre.
Keystone Realty is not the first developer to draw the ire of neighbors opposed to building on the property.
In 2006, Driftwood Hills neighbors fought a similar battle, suing the city after it approved a zoning change allowing developer Paul Kite to build a 60,000-square-foot Whole Foods grocery, plus as many as 30 condominiums, on the site.
The Austin, Texas-based specialty grocery chain ultimately chose to open its first local store in Nora Plaza, to the west. Kite's project stalled when the Great Recession hit, wiping out the availability of financing for commercial projects.
Marion County assessor records show Keystone Realty affiliate Green Indy LLC paid the Federal Deposit Insurance Corp., receiver for the former Irwin Union Bank, $2.2 million in 2011 to buy the property.
Attorney Joseph Calderon, representing Keystone Realty, told commissioners that the zoning for the original development would remain in place, if they rejected Keystone's request, allowing 12 acres to be developed instead of 5.8 acres.
"We can pull permits tomorrow to do that big box," Calderon said. "That's kind of the dare that's been placed before us."
Clark, however, doubts Keystone Realty will pursue a specialty grocery store, citing the large number already operating on the north side.
"I can't throw a brick without hitting one," she said.
"This is a starting point for entering to a dialogue with Keystone Realty," Clark added. "We respect that they own the property, and we look forward to reentering a negotiation that addresses their wants and the neighborhood's wants."
Please enable JavaScript to view this content.