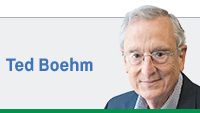 Justice John Paul Stevens retired in 2011 after 35 years of distinguished service on the U.S. Supreme Court. He has now published a book advocating adoption of six amendments to the Constitution.
One would limit the Second Amendment right to bear arms to state militias, and a second would authorize Congress and state legislatures to regulate campaign spending. Both would overrule recent decisions of the Supreme Court.
A third proposal seeks to limit gerrymandering by requiring compact and contiguous districts for both congressional and state legislative bodies, and requiring the state to justify any departure from those standards by "neutral criteria such as natural political or historical boundaries or demographic changes." Preservation of the power of the party in control of the legislature is declared not to be a neutral criterion.
Amending the Indiana Constitution requires only a majority vote in each house of the General Assembly in two successive legislatures, then a simple majority of those voting on the proposal at the next general election.
Amending the U.S. Constitution is much more cumbersome. It requires a two-thirds vote of each house of Congress, then ratification by the legislatures of 38 states. Most commentators see little prospect that any of these proposals will be able to clear those hurdles anytime soon.
Despite the dim prospects of successful drives to amend the Constitution, Stevens has made a valuable contribution by adding a respected voice calling for examination of these issues. Some, notably gun rights, seem wholly immune from change via constitutional amendment in present-day America, given the pro-gun culture in many states. Campaign finance might be almost as difficult to address, given the power of money to oppose any change.
Legislative reform of gerrymandering, however, is a somewhat different story. No constitutional change is required. Unlike gun rights and campaign finance, no U.S. Supreme Court ruling enshrines gerrymandering in the Constitution. Legislatures, by simple majority, can implement neutral maps.
I share Stevens' alarm over the toxic effects of gerrymandering, but his proposal to fix the problem is behind the curve of technology of mapmaking today. It is no longer sufficient to require districts to be compact and contiguous, and require an explanation if they do not meet those standards. Maps that present reasonable geometric shapes and adhere to "natural lines" can still have most districts overwhelmingly dominated by one party or the other.
Nor is it sufficient to prohibit gerrymandering designed to entrench one party in control of the legislature. That was the problem addressed in the first round of gerrymandering litigation in the 1980s. Since then, we have seen bipartisan incumbent protection schemes, where the two majority parties each controlled one house of the Legislature and agreed to share the spoils by drawing the maps for the house it controlled.
A map without gerrymandering will establish a large number of competitive districts. A simple majority of the General Assembly could adopt such a map, or propose a constitutional amendment imposing that requirement.
If it can't agree on either, a simple majority could approve a state constitutional amendment delegating the drawing of legislative districts to a neutral commission. Polls showing huge majorities disapproving gerrymandering suggest any of these approaches would get voter approval.
Kudos to Justice Stevens for keeping the public dialogue front and center on this issue.•
__________
Boehm is a retired Indiana Supreme Court justice who previously held senior corporate legal positions and helped launch amateur sports initiatives in Indianapolis. Send comments to ibjedit@ibj.com.
Please enable JavaScript to view this content.