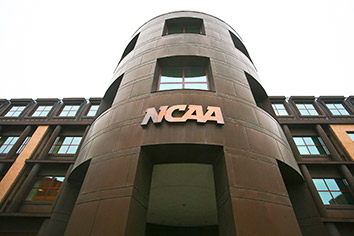 There appears to be a relatively simple solution to the dilemma that has given rise to the most recent scandal in big-time college athletics:
Allow college athletes to profit from their "name, image and likeness," something now strictly prohibited by NCAA rules.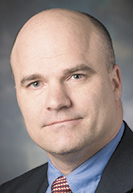 Ridpath
The change would go a long way toward stemming scandals like the one that roiled the NCAA and its member schools last month, said David Ridpath, president of The Drake Group, a watchdog organization focused on big-time college athletics.
Athletes would deal with sponsors directly, not through their schools, which would sidestep sticky employment issues that could emerge if the universities were to simply pay players themselves.
As simple as it sounds, however, the idea could have a major downside. Not necessarily for the athletes or even the fans, but for the NCAA and its member schools, which could take a multimillion-dollar hit if players were suddenly eligible to reap some of the endorsement money now going to the schools.
NCAA officials and at least some universities appear ready to protect their turf, even amid rising cries of hypocrisy against the Indianapolis-based association.
NCAA President Mark Emmert has said on numerous occasions that he opposes allowing college athletes to profit commercially, saying it would lead to the erosion of amateurism in college athletics.
The NCAA declined to be interviewed for this story. However, Emmert and other NCAA officials have argued that such deals would hurt the academic missions of the governing body, its member schools and their athletic programs.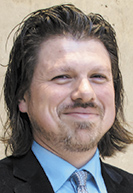 Clavio
But Galen Clavio, a professor of sports media and director of the National Sports Journalism Center at Indiana University, said the NCAA's rationale is nonsense.
"I've never understood how amateurism is a component of being a college athlete," Clavio said. "Every adult should have the right to profit off their own market value."
And Ridpath, a professor of sports administration at Ohio University, said universities' objections are actually because they "fear loss of control and the ability to maintain a competitive advantage."
"That's all this is about," he said. "The system works well as it is for those getting rich, but not as a whole and not as it's supposed to be."
This debate—and related ones—exploded on Sept. 26 when the U.S. Attorney's Office for the Southern District of New York laid out findings from an FBI investigation that reports to have uncovered corruption, bribery and wire fraud involving assistant coaches from some of college basketball's top programs as well as a high-ranking Adidas executive and at least one players' agent.
Four assistant coaches—Tony Bland of USC, Emanuel "Book" Richardson of Arizona, Lamont Evans of Oklahoma State and Chuck Person of Auburn—were charged with various violations.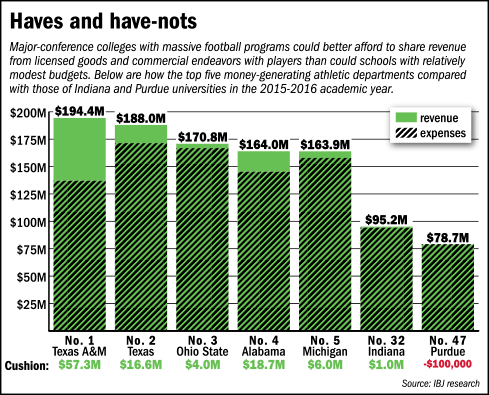 The scandal involved money paid—at least in part by Adidas and at least one agent—to assistant coaches to steer student-athletes to certain agents and schools with Adidas ties.
No universities or head coaches have been charged. But the investigation is ongoing, and multiple schools—including Louisville—have been implicated. Louisville officials took the pre-emptive strike of putting Head Coach Rick Pitino on unpaid leave and Athletic Director Tom Jurich on paid leave, moves that many within NCAA circles predict will lead to their firing.
Big business
For most student-athletes, sports aren't big business unless they make it to the pros.
NCAA rules for years limited member schools' financial assistance to a one-year renewable scholarship or, more recently, a guaranteed four-year scholarship that includes tuition, books, room and board.
In 2014, the NCAA began allowing schools to provide additional food—including unlimited snacks. And in 2015, the NCAA let Division I schools provide a small stipend—ranging from $2,000 to $5,000—to help pay for the full cost of attending college.
Additionally, Division I schools may pay for student-athletes to finish their bachelor's or master's degrees after they finish playing NCAA sports.
But those student-athletes can't make extra money by representing companies or gaining sponsors.
Universities and the NCAA, however, can strike such deals.
The NCAA's revenue—powered by its television deal for the men's basketball tournament but also by apparel sales and other commercial deals—has grown from less than $250 million in 1998 to just short of $1 billion in 2016, according to the NCAA's own audited financial statements.
Money is also generated outside the umbrella of the NCAA. The College Football Playoff, which is controlled by the power conferences and Notre Dame, is in the midst of a 12-year, $7.3 billion TV deal with ESPN. 
Revenue for some of the nation's biggest college athletic departments has skyrocketed just as rapidly. Schools like Texas A&M, Texas and Ohio State have seen their athletic department budgets nearly double in the last decade.
For its 2016 fiscal year, Texas A&M's athletic department generated more than $194 million, in part from contracts with apparel companies and other sponsors. The total was more than $57 million higher than the department's expenses for the year.
Ridpath said coaches and athletic administrators have little interest in sharing those riches, even though many of them make fat salaries.
Even mid-major programs pay head football and men's basketball coaches hefty six-figure salaries. More than a dozen major-college coaches have multimillion-dollar salaries. Nine athletic directors, including Notre Dame's Jack Swarbrick, make more than $1 million annually.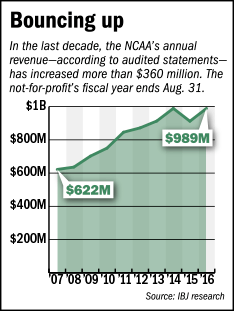 But that could change if athletes got some of the apparel companies' marketing dollars by cutting their own deals—and those contracts could also create conflicts with the deals their colleges have signed. It's unclear what would happen if, for example, an athlete with an Adidas deal enrolled in a school that had a deal with Nike.
IU has a multi-year deal with Adidas that pays the school $6.7 million annually. That eight-year agreement, signed in 2015, represents an 81 percent increase over the school's previous shoe-and-apparel deal and stretches across all of IU's 24 varsity sports. Marketers expect the value of those deals to continue to escalate.
Yet schools like Indiana and Purdue have much thinner margins in their athletic departments than do the mega programs. Allowing players to profit from their own image and likeness could force cuts at many college athletic departments or push them into the red.
Purdue is already on the edge. For the 2016 fiscal year, its athletic department scored $78.7 million in revenue and spent slightly more than that. IU brought in $95.2 million and had $94.2 million in expenses, for a small surplus.
Olympic model
Conflict involving so-called amateur sports and commercialism isn't new.
Olympic athletes and their sports have faced many of the same "Chariots of Fire" purist ideals now standing before the NCAA and its member schools. And despite some loosening of earning opportunities for Olympic athletes, conflict over money is still substantial.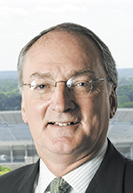 Swarbrick
For example, strict rules make sure companies that sponsor individual Olympic athletes don't overshadow official sponsors of the U.S. Olympic Committee and the Olympics themselves.
For about a month, including a short run up to and during the Olympics, an athlete can't acknowledge his or her sponsors.
And those sponsors can't use an athlete's name or image in any way. Any existing ads must be taken off the web and discontinued in broadcast and other media. Sponsors can't reference the athlete, or the Olympics, or retweet messages posted by random individuals with references to the athlete or the Olympics.
During that blackout—according to the Olympic regulation known as Rule 40—sponsors of individual athletes can't use words in their marketing materials that reference the location of the Olympics, gold, silver, bronze, medal, summer, winter, games, victory, competition or challenge.
But policing Rule 40, or any trademark or intellectual property law, is an Olympic-size challenge requiring considerable resources. 
Heavy-handed rules might lead players to eschew college athletics altogether. While Emmert argues that players who are talented enough to make money from their sport ought to be professional, some within NCAA circles fear college sports could potentially be drained of some of its biggest stars.
For instance, 16-year-old basketball star LaMelo Ball already has his own signature shoe under his father, LaVar Ball's Big Baller Brand, which has given rise to NCAA eligibility questions. "The NCAA ain't going to tell me sh–," LaVar Ball told ESPN last month. "We'll sit out a year or two."
That decision won't sit well with college hoops coaches. As a high school sophomore last season, LaMelo Ball tallied 92 points in one game for Chino Hills in California. LaMelo is being home-schooled this year.
Free market vs. black market
Bobinski
Purdue Athletic Director Mike Bobinski said officials from the NCAA and universities should consider letting college athletes get paid for commercial deals—and he's confident the conflicts can be worked out.
"I don't see name, image and likeness deals for athletes being in conflict with the schools," said Bobinski, who is in his first year as Purdue's AD. "Those are two different things."
Bobinski's take is a sea change at Purdue, where his predecessor—longtime Athletic Director Morgan Burke—was adamantly opposed to college athletes' getting paid for commercial deals.
Ridpath said he believes that, among athletic directors, the idea of letting college athletes get paid for commercial deals is gaining momentum.
In 2015, Notre Dame's Swarbrick told IBJ he would be willing to consider allowing athletes to sign commercial deals.
"You have to ask yourself why the music student can go downtown and perform on Friday night and make whatever he wants and the athlete is limited on that," Swarbrick said at the time.
Swarbrick, an Indianapolis attorney for nearly three decades before becoming Notre Dame's AD in 2008, said new ways of thinking are needed to wrestle with the changing challenges athletic departments now face.
Ridpath said he finds a majority of athletic directors are open to discussing the possibility of letting athletes earn money through commercial endorsements. But he said many "fear publicly speaking out."
There's more resistance to the idea within the NCAA organization and among some university presidents, he said.
"I think there's a fear of the unknown," he added, but a free market will regulate itself "a lot more and a lot better—and in a more equitable way—than a black market."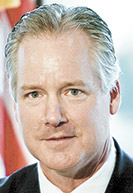 Collier
Not everyone is convinced, including Barry Collier.
"I think the ability to do that on a legitimate level is really questionable," said the Butler University athletic director. "I'm in favor of the current collegiate model."
Collier, who was Butler's basketball coach from 1989 to 2000 and became the school's athletic director in 2006, admits "this is a complicated issue. And the recent finding from the FBI investigation will put a renewed focus on all of this."•
Please enable JavaScript to view this content.