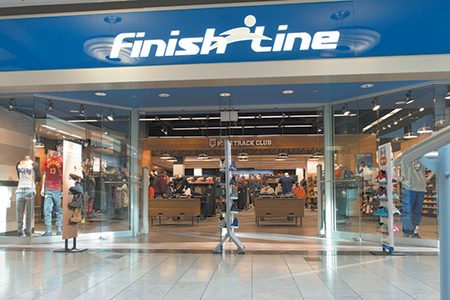 The Finish Line Inc. is highly vulnerable to being acquired, retail analysts say, thanks to a succession of challenges hitting it all at once.
Among the most pressing: Shoe vendors increasingly are selling directly to consumers online, mall traffic is weak, and demand for high-end athletic shoes and apparel is lax.
Exacerbating Finish Line's struggles is its heavy reliance on Nike, which accounted for 71 percent of purchases in the fiscal year that ended in February.
"The sharp collapse of Finish Line's business underscores the category challenges facing athletic, largely promulgated by Nike's innovation lull and ensuing aggressive promotional stance," Camilo Lyon, an analyst at Canaccord Genuity, said in an Aug. 29 report. "Simply put, it is crippling the retailers."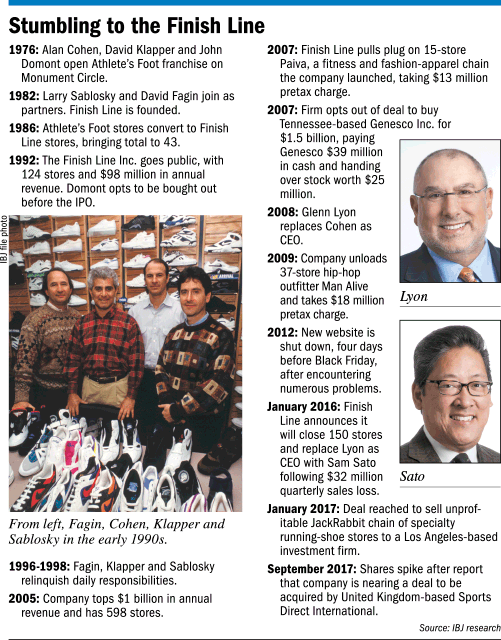 Talk of a Finish Line takeover has been building in recent months as United Kingdom-based Sports Direct International aggressively accumulated stock in the company.
Sports Direct, which owns the U.K.'s largest sportswear retailer, hasn't publicly stated its intentions, and the company did not respond to requests for comment. It now owns 8 percent of Finish Line's outstanding shares. It also has a 21.7 percent stake through a form of derivative known as "contract for difference," though it doesn't have voting rights on those shares.
Finish Line directors responded in August by adopting a so-called shareholder-rights plan aimed at thwarting unwanted takeover advances. The plan, also known as a "poison pill," uses the issuance of rights to buy preferred stock to prevent an investor that owns less than 12.5 percent of the stock from boosting its stake beyond that threshold.
But analysts see that move, along with an expansion of its board from seven to eight members announced at the same time, merely as efforts to bolster Finish Line's negotiating clout.
Susquehanna Financial Group analyst Sam Poser speculated that Finish Line wants to "force a conversation with Sports Direct and prevent a change of control through open market accumulation [of Finish Line stock] or coercive tactics."
The company isn't commenting on the prospects of an acquisition. Chief Financial Officer Ed Wilhelm told investors in a Sept. 22 conference call that "we will have no further comment on these matters, so we ask that you please limit your questions to our financial results and operating strategies."
On Oct. 2, a Finish Line spokesman also would not weigh in, saying the company does not respond to rumors or speculation.
The 35-year-old chain operates 569 stand-alone stores and another 378 outposts within Macy's department stores.
Sales slipped 2.5 percent in fiscal 2017, and are off 1.8 percent in the first half of this year.
The company's stock traded as high as $24.50 in December before falling below $9 in September. It rose more than 44 percent through the month, fueled by takeover speculation and second-quarter results that topped analysts' diminished expectations.
The stock now fetches about $11.15, giving the company a market value of $447 million.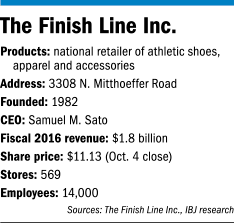 Sports Direct, founded the same year as Finish Line, operates 670 stores worldwide. Under CEO Mike Ashley, the company has begun to shed its roots as a discount retailer in favor of becoming the "Selfridges of sport," in reference to the British luxury department store.
In April, Sports Direct gained its first foothold in the United States by buying the sporting goods chains Bob's and Eastern Mountain Sports from their bankrupt owner.
Citing a source close to the situation, The New York Post on Sept. 28 said Sports Direct was nearing a deal to buy Finish Line and that "an acquisition could be announced in the coming weeks."
That wouldn't surprise David Weiss, a retail analyst at Chicago-based McMillanDoolittle.
"Sports Direct has been down this path before, and they've made it happen," he told IBJ. "It makes a lot of sense for them, if they're really interested in moving into the U.S. space."
In a Sept. 27 research note, Wells Fargo analyst Tom Nikic said such a deal makes sense because Sports Direct wants to penetrate the U.S. market, there's potential to differentiate the Finish Line brand from rival Foot Locker, and Finish Line is the type of struggling business Sports Direct has acquired in the past.
Finish Line's struggles came to a head in January 2016, when the company announced it would close 150 stores. It also replaced Glenn Lyon as CEO with Sam Sato following a $32 million quarterly sales decline due to extensive supply-chain problems.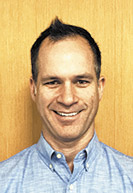 Weiss
Finish Line on Sept. 22 reported second-quarter profit of $2.8 million, down from $22 million in the period a year earlier. Same-store sales slumped 4.5 percent. In the same announcement, the company downgraded the outlook for next fiscal year—saying it expected adjusted earnings per share of 50 cents to 60 cents, a far cry for its previous outlook of $1.12 to $1.23.
"Unfortunately, we do not expect the athletic space to show any signs of stabilization until we see meaningful innovation out of Nike, which we believe will take another 9-12 months, Lyon at Canaccord wrote. "Until that happens, we expect continued under-performance from all the athletic retailers in our universe."
For Indianapolis, a sale of Finish Line would mean the loss of a second large, publicly traded retailer within months. HHGregg Inc. filed for Chapter 11 bankruptcy protection in March and its 220 stores went out of business two months later.
Further, Indianapolis-based Marsh Supermarkets closed its 44 remaining stores in June. Cincinnati-based Kroger Co. scooped up the leases for 11 stores for $16 million, while Generative Growth II bought 15 for $8 million.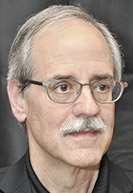 Feinberg
"In this day and age, dealing with retailing, that's not unusual at all," said Richard Feinberg, a professor of consumer science and retailing at Purdue University. "But HHGregg and Marsh were in trouble way before they went out of business. Finish Line is different. They have very little debt."
Weiss at McMillanDoolittle expects the Finish Line name and its local headquarters would remain, given the large distribution operations already in place.
"Thirty years of a name is a good thing to own," he said. "Getting rid of the Finish Line probably doesn't accomplish what they want to do."•
 
Please enable JavaScript to view this content.