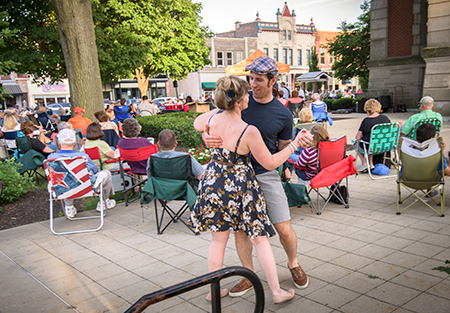 Last month, Apple announced the remaking of its flagship stores, rebranding them as "town squares."
The announcement exasperated many an urban designer (including me) and aggravated an already challenging debate about public space in the country. Apple is playing on our positive feelings about such places but in so doing turns the idea of the town square into a simple marketing trope.
More than a naive romantic notion of the past, genuine town squares are as important and relevant as ever.
When we think about the making of cities and urban places, we tend to focus on land uses and densities, traffic patterns and built form.
With all their complexities, it is easy to lose track that these places, at their heart, exist to facilitate relationships among people.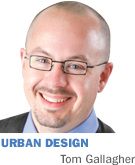 Five principal relationships are often linked to social well-being and richness of life: family and close friends, vocational (school and workplace) associates, social acquaintances, the broader community and the universal.
While these are experienced in multitudes of ways and at many scales, they can generally be associated with five corresponding places: home, work, so-called third places (like a cafe, a library, a pub or a pocket park), the commons, and a vast array of spaces that link us to things beyond ourselves.
The commons—our public realm, our town squares particularly—are venerated spaces that weave together our communities and facilitate the core freedoms essential to our democracy. They give us:
■ A place that is ours. Commercial interests maintain a brick-and-mortar presence recognizing that a positive experience at the storefront is a path to not just a sale but long-term brand loyalty. True town squares exist for a wholly different reason: the symbolic celebration and promise of community. Whether by weight of time, wisdom of generations, or the dignity of collective ownership, town squares can imbue us with a far deeper fidelity.
■ A place for all. Though many have adopted the name, neither shopping centers nor luxury retailers are town squares. Both may be integral parts of the urban fabric but neither can substitute for the sometimes-gritty commons that receives all law-abiding citizens and provides a platform for their voice.
■ A place to get to know each other. The average person spends five hours a day on mobile devices, including two hours on social media, but less than half an hour socializing. While it is a modern necessity, the digital world is not a place of equality. Beyond the issues of access faced by those with low incomes, social media primarily connects us to those already like us. The mask of anonymity and fear of being "flamed" for a dissenting idea has marred the tool, consigning it to being mostly an echo chamber.
Lasting relationships, not to mention real innovation and creativity, come from getting past the biases and assumptions that occupy our regular thinking.
Long before yelling at one another over police lines, actually occupying the same physical space as people with different values and backgrounds affords us that opportunity.
At its best, the spontaneous collaboration that can occur in the town square makes possible civil discourse and, potentially, coexistence with people with whom we do not agree.
The urban activist and author Jane Jacobs once noted that genuine cities are "by definition, full of strangers." But it's that quality that provides their opportunity.
She continues, "lowly, unpurposeful, and random as they appear, sidewalk contacts are the small change from which a city's wealth of public life must grow."
Seeing a woman with skin color different from yours playing with her child, a man laughing with friends conversing in a language different from yours, a simple nod from someone you don't know is how we come to see others as people, as humans, not just categories, stereotypes or avatars. Shared experiences in public squares help us build more than just empathy for others but also some sense of responsibility for their well-being.
I can't help but wonder, if we spent more time engaging in the social life of our actual public squares, would we spend less time trolling people in the virtual ones? If we went to our town squares for more than just protests, would we need to protest as often?
If you haven't been to your actual town square for a while, make the effort to go. If you are there all the time, keep going. Nothing attracts people to a place more than other people. Five minutes outdoors is good for your health and by just showing up you'll strengthen relationships along the way.•
__________
Gallagher is an urban designer with Ratio. Send correspondence to [email protected]
Please enable JavaScript to view this content.