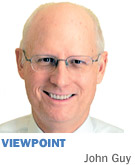 Howard died behind the gates—because of fear. He lived in south Florida, but the same mindless apprehension is causing Indianapolis neighborhoods to retain private security firms and developers to build million-dollar gatehouses.
Howard's story is 80 percent true, 20 percent exaggeration. He lived in a high rise, near the top, the 18th floor. When his Life Alert went off, an ambulance arrived in five minutes at the parking lot gate, which was temporarily unattended by a person in the restroom. Entry was delayed three minutes. After parking at the front door, EMTs lost another minute attracting the security guard, who then took three more minutes opening the first door, then the second, then scrambling for the elevator card needed for a quick ride up 18 floors. It got worse.
Howard's condominium front door had three locks: an inside chain easily broken, a locked door knob very difficult to breach, and a deadbolt impossible to breach. The door was 3 inches thick, impenetrable. EMTs could not get in. Howard passed 12 minutes after the Life Alert. (In the fictional version, fire rescue personnel asked for entry to the apartment above Howard's. They lowered themselves to Howard's balcony, broke the window, and found him on the floor. This took 30 minutes.)
His condo sales brochures described seemingly perfect security, which was marketing aimed at older persons fearful of robbery and rape. The area of this high rise has a low crime rate.
A few years ago, a north-side Indianapolis upscale senior residential facility spent hundreds of thousands of dollars to add an elaborate entrance shack. It was attractive, with air-conditioned space for guards and three gates: one automatic for inbound residents, another for guests seeking permission from the guard, and one outbound. It was in an area with low crime and no history of crime in the newly protected facility. With 24-hour attendance and who knows how much for maintenance, the annual cost must be in the six digits. Of course, this superficial protective effort was a highlight in the marketing brochures.
Is the north-side facility protected? Nope. A second entrance/exit gate is unattended, easily breached by anyone, as is the unwatched, unlighted chain-link fence around the property. With little thought, anyone intent on crime and violence can enter the grounds.
Not far away, a north-side neighborhood association pays $20,000 a year for a private security firm. Most residents never have seen security-firm cars, which, by contract, drive though twice a day. Frustration over lack of security-firm visibility has caused the association to change firms every few years with no measureable effect because improvement is not feasible. Since my arrival in 1981, private security has not responded to any crisis, resolved any dispute, issued a ticket, detained a vagrant or assisted in any emergency. Every crisis is resolved effectively by fire department service from West 86th Street and Ditch Road, or by mobile police arriving quickly from who knows where.
Ask a neighbor if he wants security, the answer is yes. Ask if he would prefer new sidewalks with the $20,000 ($100,000 over five years), the answer is decisively "yes." Ask the board to change policy, no way: no hearing, no consideration, no rationale, no data, nothing. The board makes a budgetary choice that no board member would make acting alone. Unseen fear, thoughtless policy, dominates.•
__________
Guy is a local wealth advisor and author of "Middle Man, A Broker's Tale."
Please enable JavaScript to view this content.