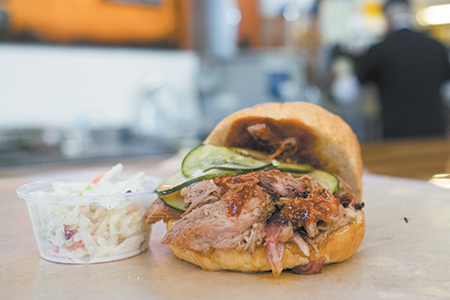 If you want a recipe for a welcome addition to Indianapolis City Market, try combining the following ingredients: quality food, uncomplicated choices, a passionate local creator and reasonable-enough prices. It's even better with a special ingredient. That is, something that complements rather than duplicates other City Market offerings.
Most of that can be found at newcomer Gomez BBQ (City Market, 222 E. Market St., 317-414-7661).
Michael Gomez, the man behind the pork, is an Indiana University and Dayton University graduate who has been tinkering for years with his process, mostly by trying it out on catering clients. He's adamant about not bringing another city's barbecue style here but, instead, pushing "Indianapolis barbecue" featuring local meats that spend 13 hours in a temperature-monitored fireplace smoker with added hickory and red oak.
At the no-frills booth—with a few stools of its own—there's subtlety in the results. The Pulled Pork Sandwich ($8) lived up to its painstaking process, with the meat rather than the sauce doing the bulk of the talking. You can douse it with more sauce if you like, but, by the same token, you can also put ketchup on your St. Elmo steak. Capped with coleslaw—light on the mayo and a nice bit of horseradish for character—it comes packed into a Circle City Sweets bun.
Smoked Sausage Wrap ($7) featured smoky andouille Italian sausage with a Kincaid's Meat Market pedigree, but I wanted to see—and, more important, taste—a bit more of it than the flour tortilla it was wrapped in. Arugula and ricotta cheese filled out the rest, kicked up a notch with black-pepper honey and Batch No. 2 mustard.
The big winner on the limited menu, though, is the dripping-with-juices BB-Cuban ($10), the Gomez variation on the Cuban. Here, thin slices of smoked ham reunite with pulled pork and get a covering of nearly melted Swiss cheese. The mustard is subtle. More barbecue than Cuban, it's a bit pricey for a stand-alone sandwich but enormously satisfying.
A downside for Gomez BBQ is the lack of sides. If you want to round out your meal with anything besides chips or slaw, you might find yourself having to line up at another City Market vendor to supplement if you don't get there early. It took me two visits to land a side of Brisket Baked Beans ($3), in which whatever doesn't make it onto brisket sandwiches is stirred in with the legumes to outstanding effect.
Note: If you miss regular lunch hours, and crave barbecue, you are still in luck. Gomez also offers a limited menu—including the BB-Cuban—upstairs at the Tomlinson Tap Room Tuesday through Saturday 4:30-8:30 p.m.•
Please enable JavaScript to view this content.