The Guaranty Building on Monument Circle for years was known as the home of one of the city's top tech companies—first ExactTarget Inc. and then later Salesforce.com Inc., which gobbled up the former in 2013.

Now, Salesforce has left for its namesake tower across the Circle as part of a big downtown expansion, and the nearly emptied historic Guaranty is making a quick comeback and attracting prized tenants.

Tech companies Cheetah Digital and Sigstr have moved in and will be followed this month by Cummins Inc., which has agreed to take two floors to house its new digital accelerator unit.

The fact that Guaranty Building is nabbing such high-profile companies—even with a pricey $25.50 per-square-foot asking rate that's more on par with downtown's top towers—demonstrates its impressive standing in the local office market.

"I think we're going to get it leased up in fairly short order," said John Barnard, the building's owner. "It seems to be pretty attractive to quite a few people."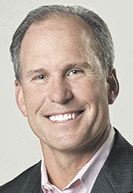 Ehret
Its prime location, on the southwest quadrant of the Circle, and attractive floor buildouts undertaken by Salesforce have helped to push occupancy from almost nothing to above 50 percent in four short months.

Still, that much space hasn't been available there in years, presenting a rare opportunity for Barnard to reintroduce the building to the market.

"They will breathe new life right back in there," said Adam Broderick, a JLL office broker and leasing agent for the building.

Jenna Barnett, an office broker at Newmark Knight Frank Halakar, represented Salesforce in the company's move to its tower and also Cheetah Digital and Sigstr in their relocations to the Guaranty Building.

Digital marketing firm ExactTarget, founded in 2000, had occupied most of the building from 2007 until it was acquired in 2013 by San Francisco-based tech giant Salesforce for $2.5 billion in cash.

Salesforce kept offices in the building until it moved in May to what is now Salesforce Tower as part of the company's plan to add 800 workers by 2021, boosting its downtown employment to 2,200.
Bill Ehret, a longtime office broker and managing director of the local Avison Young office, credits ExactTarget with helping to revive the Guaranty Building.

"ExactTarget helped to reposition it as that cool-type urban space that these startup and emerging technology companies fashion themselves to be in," he said. "They made it marketable."

Construction on the building was completed in 1923 at a cost of about $1 million. Its architect, Indianapolis firm Rubush & Hunter, influenced the Circle heavily by also designing Circle Tower, Circle Theater and the Columbia Club.

The Western Union Telegraph Co. was the Guaranty Building's largest original tenant and still maintained a presence there until at least 1989, when the Mead family and other investors put the building on the block.

Fort Wayne-based Mutual Security bought the building but a liquidation in 1991 forced the Indiana Insolvency Office to assume control. The agency sold the building at auction in 1996 to Barnard and a group of investors for $750,000, Barnard said.

Barnard, who ultimately assumed sole ownership, recalled how far the once-stately Guaranty Building had fallen. At the time of the sale, only 15,000 square feet of the 80,000 square feet of upper-level office space remained occupied. The final blow came when NatCity Investments Inc. vacated three floors earlier in 1996 to move to the Capital Center.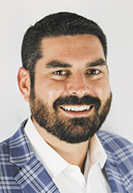 Broderick
"It was an absolute dump when I ran across it," Barnard said. "It just seemed like it deserved better."

Barnard, 74, had the time to nurse the building back to health. He retired early from Eli Lilly and Co., having managed its international finances. Today, he serves as managing director for Pearl Street Investor Funds and operates YourEncore, which connects companies with retired and veteran scientists and engineers.
He and his partners invested "a fair amount of money" in the building, installing new mechanical, electrical and lighting systems, among other renovations.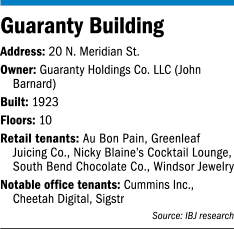 When Salesforce left, it occupied eight of the nine office floors. Barnard's YourEncore resides on the eighth floor. Street-level retail space is taken by Au Bon Pain, Greenleaf Juicing Co., Nicky Blaine's Cocktail Lounge, South Bend Chocolate Co. and Windsor Jewelry.

Today, Cheetah Digital is on the second floor and Sigstr on the fourth. Cummins' new Digital Accelerator unit is set to move into the sixth and seventh floors—taking a total of 20,000 square feet—by the end of the month, Broderick at JLL said.
Digital Accelerator is Cummins' internal group focused on innovation and evaluating new concepts with a focus on software development.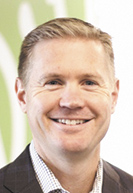 Wade
Sigstr and its 38 employees moved there in September. Many of them, including CEO Bryan Wade, are ExactTarget alums and already familiar with the building.

Sigstr was founded in 2015 and moved from Circle Tower. Its software allows companies to control marketing messages beneath email signature lines.

The company in August raised $5 million in fresh capital, allowing it to double its space, to 10,000 square feet at the Guaranty Building, as it prepares for growth.

"What sold us on it, it was move-in ready," Wade said. "We only had to knock down a wall. The environment was really modern, and the layout is great for tech companies."

Meanwhile, Barnard said the building has been appraised at $10 million—a healthy increase from the $750,000 he paid for it. Still, he has no plans to collect a tidy profit and let it go anytime soon.

"I'm kind of emotionally attached to the building," he said. "Someday, if I decide I'm not going to work anymore, I might be more inclined to sell