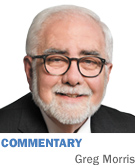 Gleaners Food Bank of Indiana and Indianapolis Business Journal recently partnered to convene some bright minds and dedicated community leaders to discuss the urgency of hunger and related health issues in our region and—more broadly—the entire state.
The people in attendance left the room with a greater understanding of how daunting and complex these problems are. And I hope everyone left with a much greater commitment to becoming personally invested in helping solve the problems. I expect a lot of people left a changed person. I know I did. I can't shake the conversation—and that was the point.
Being hungry and not knowing whether you'll get enough to eat today, or any day, is problem enough. Add to that the complexities of interconnected issues related to hunger—like education, worker productivity, diminished economic success, crime and the like—and every day becomes a monumental challenge.
You'll find these food-insecure people right next door or down the street just outside our homes and offices. We hear about food insecurity and hunger, but how often do we stop to think about how unacceptable it is for someone to go to bed hungry tonight? It's not acceptable.
The proportion of Hoosiers living below the poverty line is 14.5 percent. And 20 percent of those are children. Through Gleaners' network of 250 hunger-relief agencies, food assistance is provided to more than 260,000 people. That's one in eight Hoosiers in Gleaners' 21-county service area in central and southeastern Indiana. Nearly half of those served are children and seniors.
Low wages, underemployment and unemployment accelerate the need for food assistance in Indiana. Approximately 70 percent of Gleaners' client households are living at or below the poverty level, 53 percent report annual income of under $10,000, and three of four households report having to choose between paying for medicine and paying for food.
About 83 percent of Gleaners' clients report having to choose an inexpensive food item that was unhealthy because that was all they could afford. The food we eat is critical to our health, especially in the areas of obesity, diabetes and heart disease. That's why hunger is responsible for at least $77.5 billion per year in additional medical costs in the United States, or $1,800 per food-insecure household.
In Marion County, where the poverty rate is above 21 percent, there are about 175,000 food-insecure people, 47,000 of whom are children. Over 15 million pounds of food and over 12 million meals were distributed to food-insecure people in Marion County in the past year. And in Marion County alone, 262 local pantries, schools and community organizations work with Gleaners to meet the needs of county residents.
There's a strong focus on getting food into the mouths of children. Gleaners is involved in school-based food pantries at 23 sites that serve almost 14,000 households. BackSacks filled with healthy food are distributed to over 5,300 children in 102 elementary schools each week, and summer BackSacks were distributed to over 4,000 children each week last summer. The annual cost of these Marion County youth programs exceeds $1 million.
I can quote numbers all day, but I hope I'm breaking through all the distractions and clearly delivering the message that the need is great. Even with the amazing job being done by Gleaners and many other supporting organizations and agencies, it's still not enough. More is needed.
John Elliot, Gleaners' president and CEO, is asking the entire community to take action. "If you already contribute time, talent and resources to solving the challenges of poverty—including hunger, health, education, employment, housing and crime—will you contribute more? Will you become an advocate and bring the time, talent and treasure of others to the struggle?" John asks that we all share the sense of urgency about not just feeding the line of hungry Hoosiers, but also reducing the number of people in the line by simultaneously helping to solve their challenges.
Having hungry children and neighbors is not acceptable. Learn more, do more and give more. You can make a positive impact today. Visit gleaners.org to find out how you can become personally involved in leading the fight against hunger. I humbly thank you for your support.•
__________
Morris is publisher of IBJ. His column appears every other week.
Please enable JavaScript to view this content.