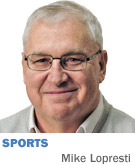 This is the story of a college basketball player and a son, only not in that order.

On the worst morning of Joey Brunk's young life, he went to Twitter to share the pain. "Today, my Dad took his last breath on earth & his first in Heaven. My heart is full of our memories. So proud of his fight! I love you dad!"

That was April 15, and Joe Brunk was gone. Brain cancer. His son had taken a hiatus from his freshman basketball season at Butler University, leaving the game he cherished so he could spend the last few months of a dark winter with his father.

This is mentioned now because Joey came back to the court in a Bulldog uniform on Oct. 28—an exhibition game against Hanover. Joe Brunk's old school.

"It's really special for me, obviously," Joey said the other day. "I still talk to a lot of his buddies he played basketball with."

The season is here, and not one player anywhere is probably looking forward to it more than Joey Brunk. He can be a college kid again. Last winter, he had to be a man. A heartbroken man.

This from Carmel and Butler legend Billy Shepherd, a close Brunk family friend who coached Joey in AAU: "The one thing that sports—and especially a team like Butler, as close as that team was—offers a young man is the chance to get back to normal. For Joey, getting back to normal is getting back to games and the classrooms and with his teammates. I just think it's a fresh start for him."

Brunk: "It definitely means way more than really it ever did. It was amazing, just to be back on the court and get that feeling. I had kind of lost that feeling of how much fun it is to play basketball."

He reflected on a journey no teenager would ever want to take, and a decision no teenager would ever want to have to make. The golden high school career at Southport, the high hopes at Butler … that was all from basketball, and basketball had to be put on hold.

"My responsibilities completely changed, and I wasn't just a kid that went to school and played basketball anymore. I still was trying to do all my schoolwork, I wanted to be here at practice and do as much as I could, and at the same time I was at home with my dad.

"It turned my world upside down. Basketball wasn't one of my most important things on the list anymore. It got shifted down a couple of notches. It was completely different than anything I've ever experienced."

That happens, when we lose our fathers.

Shepherd was in Las Vegas last fall, having breakfast with Joe Brunk when the headaches first struck. He stayed as Helen Brunk and sons Joey and Johnny rushed to Nevada. He understands how important those last months with Joey were to his very ill friend.

"It meant the world to him. He lived for those two boys. Joey making that sacrifice—I don't think it was anything that Helen or Joe really expected. Joey's the type of young man, his faith and family came first, and school and athletics came later. The fact that he could spend those last couple of months with his dad and share a lifetime of experiences they had gone through together—and I know that's what they did—is going to stay with him for a lifetime. And he'll share those experiences with his family someday.

"Things happen so quickly and unexpectedly. Joey was learning on the run. You can't plan for something like that. You don't at that age."

It has been six months since Joe Brunk's funeral. So how's Joey doing?

"There's not a day that goes by that I don't think of him. There's not a day that goes by that we still don't talk. There are days when you're struggling and you hear that song on the radio you know that he liked. That's the kind of stuff that helps me through all this. Little things you don't anticipate, but you know he's still there.

"Even now when I have a free afternoon—I went out to lunch with him a lot so I could talk about whatever was going on—it crosses my mind just for a split second, about going to lunch with him."

That changes a young man. It has to.

"I think at the end of the day, I'm still very similar. I want to have fun and laugh. I still love playing basketball. But I definitely have a different appreciation for things, big and small. From that angle, I've definitely changed."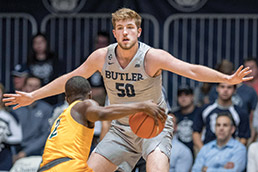 Joey Brunk helped the Bulldogs defeat the Norfolk State Spartans at Hinkle Fieldhouse last November, shortly before he took a break from basketball to spend time with his dying father. (AP photo)
The Butler basketball program has become a star-crossed expert in mourning. Andrew Smith, Joel Cornette, Emerson Kampen's baby son. Brunk connected with Eric Fromm, another recent Bulldog who lost his father to cancer. Life has demanded that many at Butler learn how to move on.

It's not hard to guess where Brunk's mind will be when he returns in uniform to Hinkle Fieldhouse.

"Even before he got sick, he's the reason I wore No. 50. He wore No. 50 at Southport," he said of his father. "That's something that's important to me. I know there will be moments when I'm playing that I can feel his presence, hear his words and advice that I grew up hearing. I know that will still be with me, no matter what happens."

Plus, he'll look up and see his mother and brother in the stands.

"One of the most powerful things of being here is, they still get to be here. It's a 30-minute drive. We never have lost that connection and that contact. We'll never lose that."

Joey Brunk is a Butler basketball player again. He will forever be a son.•

__________

Lopresti is a lifelong resident of Richmond and a graduate of Ball State University. He was a columnist for USA Today and Gannett newspapers for 31 years; he covered 34 Final Fours, 30 Super Bowls, 32 World Series and 16 Olympics. His column appears weekly. He can be reached at mjl5853@aol.com.