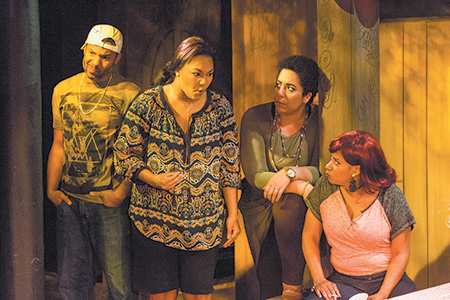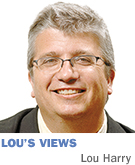 As an audience member, I'm downright hostile to spoilers.
I don't want a friend on Facebook giving away the ending of a book. I don't want a critic tipping me off to more of a plot than is absolutely necessary. And don't get me started about movie trailers that tell me the whole story. It's not just mysteries and thrillers that are diminished by such revelations; I contend that the element of surprise is key to the pleasures of almost any narrative work.
As a reviewer, I try to hold myself to the same standards, exercising caution about revealing more than is necessary so as not to rob audiences of those primary experiences.
Those standards become a challenge when trying to write about Robert O'Hara's "Barbecue," having its laugh-filled, thought-provoking, head-scratching (at least, during intermission) local premiere at the Phoenix Theatre through Nov. 19.
Why the over-caution?
Because a significant part of the play's pleasures comes from a series of perception-shifting moments causing a rethinking—and then another rethinking—and then another—of what you've seen previously. I say "a significant part" because "Barbecue" has more going on than just delivering a gimmick, including rollickingly fun performances, blistering punchlines, and some of the most creative uses of familial insults I've seen in quite a while.
Let's dodge the plot briefly to celebrate the cast, including Dena Toler as the gang's overly intense sister with major problems of her own and, in a lower-key part, Abdul-Khaliq Murtadha, as the brother short on advice but handy with a taser. While some of what's happening might appear stereotypical on the surface, O'Hara adeptly and sneakily layers the play with both meta-games and genuine affection among its dysfunctional crew(s).
I suppose I must tell you something of the story (with, sorry, one spoiler). Three sisters and a brother have gathered in a city park for an intervention disguised as a family cookout. The intent is to benefit Zippity Boo, their nickname for the sister who seems to be the lowest on the family's functionality scale (and that's saying something).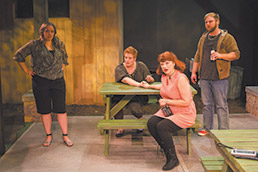 (Photo courtesy of Zach Rosing)
The family would fit the commonly understood definition of white trash … at least, in the first scene. But what are we to make of these folks in the second scene when the story seems to be continuing, but a different group of actors has taken over the parts? And do we judge the characters differently now that the cast is black?  
That's all in the first half hour.
And lest you think the play is going to hit obvious notes about race, rest assured O'Hara isn't terribly interested in the obvious.
With a big laugh or a surprise following nearly every scene change, the hilarious first act of "Barbecue" promises a bit more than the second act can deliver. A long two-character scene that launches the second did little but leave me yearning for a return of the larger family (or families). It seemed like the least-interesting characters had taken over the play. The authenticity of the initial scenes get lost in the scene that seems it should be one of the most authentic.   
Thankfully, O'Hara has a few more twists in his picnic basket and the play recovers with yet another twist … that I won't tell you about because I'm hoping you see this one.
Go on, spoil yourself.•
__________
This column appears weekly. Send information on upcoming arts and entertainment events to [email protected]
 
Please enable JavaScript to view this content.