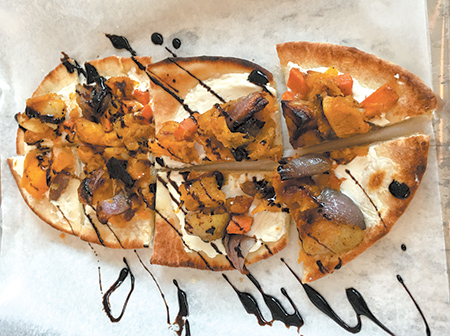 Want your cake and drink it, too?
That's sort of what you can get at The Lemon Bar (95 E. Pine St., Zionsville, 317-418-7274), the new adult-focused Zionsville treatery spun off from The Flying Cupcake.
Yes, you can get lunch or dinner there—in what was an abandoned garage that sort of looks out over Lions Park (there's a road and parking in between). But, if you are anything like me, you'll be thinking about dessert from the moment you walk in and confront the display case packed with cupcakes, bars and the cakes du jour.
So let's get right to those desserts.
With the same owners as The Flying Cupcake, it's no surprise that the center of attention at The Lemon Bar is the dessert lineup. (IBJ photo/Eric Learned)
First, prepare for steep pricing if you go beyond the cupcakes. A slice of the Happy Birthday Unicorn Wonder Cake—sizable but not gigantic—runs a steep $12.95, while a slice of the Chocolate Chip Cookie Dough Cake will set you back $10.50. Both earn points for their esthetics, with charming detailing—the Unicorn cake even comes with a substantial lollipop. Despite their names, both proved surprisingly subtle. Well, subtler than you would expect when you see this much almost-glowing frosting.
The Unicorn featured vanilla cake swirled with pink and purple confetti, layered with buttercream frosting and decorated with marshmallow twists. The chocolate cake included a thick layer of cookie dough between chocolate cake and vanilla buttercream topped with a chocolate ganache drip and, in case you didn't get the message, chocolate chip cookies.
Or—and here's where the sugar buzz can morph into a different kind of buzz—there's also a Booze Menu ($12) that I was disappointed to see wasn't available at lunch. Alas, I had to get through an afternoon of work without the influence of a Red Velvet Elvis Boozy Milkshake with red velvet cake, vodka, cream cheese icing and chocolate chips. Or the Bourbon Caramel spiked with Jim Beam.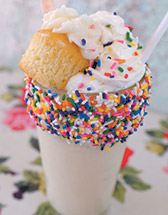 With the same owners as The Flying Cupcake, it's no surprise that the center of attention at The Lemon Bar is the dessert lineup. 
(IBJ photo/Eric Learned)
Now, about the lunch, served by a staff sporting cutesy yellow aprons bright enough to cause sunburn. A Basket O' Fries ($8) should be a welcome side to any other choices, especially if you opt for the curry ketchup as one of your two dipping sauce options. My dining companion went for the buttermilk ranch but wound up using it primarily as a dip for her Classic Gooey Grilled Cheese ($10) featuring Fair Oaks Farm's Havarti, Muenster and White Cheddar on Scholars Inn sourdough bread. Gooey, yes. But the crispy toasted exterior of the bread effectively contained the cheese.
Less satisfying was the Roasted Fall Veggie Flatbread ($12). The upper deck was fine, with goat cheese and a sweet balsamic glaze over roasted, caramelized butternut squash, carrots, potatoes and red onion. The problem was in the pita base. A flatbread should never sag under the weight of its toppings. In this case, we found mush where there should be strength. Enjoyed the veggies, though.
Brick walls and the steady crowds it has been experiencing make the ambiance of The Lemon Bar either bustling and lively or annoyingly echo-y depending on your frame of mind. There's a row of window-side seats great for solo dining, a side room for bigger groups, and some nicely odd details—including a vintage refrigerator and an old-fashioned Test-Your-Charm arcade machine that adds to the back-in-time vibe.
Now, about that milkshake …•
Please enable JavaScript to view this content.