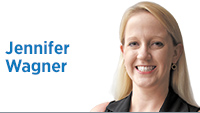 A 30-something blonde woman wearing yoga pants and a Nike running jacket walks into a gun range with a Glock pistol in an Indiana Democratic Party tote bag.
"You sure you're in the right place?" jokes the gentleman behind the counter, eyeing the logo on the bag.
Gun Range Barbie smiles politely and asks where she can find the classroom. Yes, I was in the right place, albeit a few minutes late for a four-hour handgun training course I bought on Groupon. (The Gun Range Barbie stereotype completes itself once you know I purchased the course from a coupon app that's a favorite among soccer moms.)
So, what was your friendly downtown liberal doing on a random Sunday afternoon in Carmel, nervously carrying a friend's pistol into the range?
Confronting her fear, that's what.
I can count on two hands the number of times I've touched a firearm—loaded or unloaded—before that day. I'd held my grandfather's rifle, shot skeet with a college boyfriend, and aimed at fruit at a buddy's cabin in southern Indiana.
I will tell you with brutal honesty that I've never been more afraid of what I didn't know than I was walking into that classroom.
Even after 2-1/2 hours of instruction, it was hard to hold the gun steady in my hand as I loaded and pointed it at the outline of a human being 20 feet down the range lane. Did I conquer my fear? Yes. And here are some other things I learned along the way:
Ready, fire, aim. The folks in my beginner's course had many of the same questions I had about firearm operation, safety and regulation, but they'd almost all been out shooting before. Yet when the instructor, bolstered by signs all around the room, reminded us never to aim our weapons toward anything we didn't mind killing, half the class practiced their stance with guns pointed at their neighbors' necks. It made me wonder, given the ease with which you can acquire a firearm in our state, just how many people out there are literally firing from the hip with little to no instruction.
Getting the job done. We've recently experienced a spike in armed robberies and break-ins in my downtown neighborhood, several in broad daylight. Now, I'm the special brand of paranoid that plots out household exit routes and doomsday scenarios, but I also know I'm not a particularly daunting threat to an intruder seeking to harm my family. Would I be better off with a gun in the house? I'd need a lot more practice to have any confidence in my ability to quickly, accurately defend myself. And I'd need to make sure that whatever weapons I procured were secured away from the inquiring hands of my kids and their friends. Verdict: I still don't know.
An awesome experience. All those doubts aside, I can say now that I understand why people have guns. There is something awesome—the actual definition of the word, not 1990s' teen vernacular—about holding that power in the palm of your hand. For me, it was sobering, not thrilling, but it was nonetheless something worth experiencing, even if you remain, as I do, a supporter of common sense regulations designed to reduce gun violence and promote firearm safety.
My biggest takeaway from my afternoon at the range is a deeper appreciation for something I feared. Being afraid kept me from being informed, and I believe it's more important than ever before to understand where others are coming from if we want to begin undoing the divisiveness that currently defines our country.•
__________
Wagner is a lifelong Indianapolis resident and vice president of communications at EdChoice. Send comments to [email protected]
Please enable JavaScript to view this content.