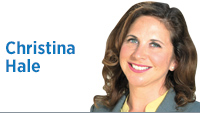 Everybody has an opinion, right? And almost every elected official and policymaker, no matter their degree of competence, wants good things for their community.
Sometimes, it is too easy to be lured into an opinion or idea just because of our own predilection or experience. Sometimes, people are even motivated to run for office to accomplish something really significant, to fix a problem, to help people be more successful, to prevent disease or heartache—only to discover that their big idea, however earnest, however noble, doesn't accomplish what they need it to do.
Sometimes, it doesn't even come close.
That is why I say thank goodness for those neutral bodies that make it their business to provide the evidence needed to get things done the right way. In today's world of fake news and the blending of opinion and fact, finding evidence that helps drive effective policy is invaluable in terms both of human and economic cost.
This year, we have cause to celebrate in Indiana. There is an entity that helps lawmakers do their jobs better and makes their ideas more useful.
At a time when far too much policy is being pushed through based on opinion or—at worst—self-interest, the Indiana University Public Policy Institute produces high-quality applied research and data analysis for leaders to effect positive change and a better quality of life in their community.
This year marks PPI's 25th year of existence and, more important, its significant contribution to the health of our communities around Indiana by offering the kind of academic research that can significantly improve the efficacy of state and local policy, as well as become a crucial statewide resource for community service, research and analysis.
During this time of news confusion and political polarization, PPI offers our state the kind of neutral yet very relevant study that can save lives as well as money.
People forget that policymakers are human beings with good intentions and human failings. It can be all too seductive to listen to our favorite news flavor and get lost inside the echo chamber of our own party or even circle of friends, or, absent better evidence, it might just be easier to acquiesce and vote the way our spouse demands.
It seems that we now might even have foreign state actors trying to manipulate these voices in clever ways, adding false legitimacy to the noise we hear in our social media feeds.
There is a lot at stake. We need good research to drive the right decisions regarding water policy, infrastructure investment, health care management, homeland security decisions—the list is long and scary. Opinions won't keep us safe, healthy or successful. We need hard, neutral evidence.
Far too many decisions get made by lawmakers who listen to the loudest or last voice they hear. This isn't nefarious; it is often just a product of human nature.
Policymaking is decidedly political and complicated because it involves creating winners and losers and usually choices between multiple competing concerns; the only antidote to this is access to good information.
How fortunate we are here in Indiana to have access to some of the best researchers in the United States. Not every state is quite so fortunate.
PPI, we celebrate your 25 years of service to our state and look forward to your continued success and growth over your next 25 years. Clearly, you are needed now more than ever before.•
__________
Hale is a former member of the Indiana House and ran for lieutenant governor in 2016 on the Democratic ticket. Send comments to [email protected]
Please enable JavaScript to view this content.