Republican U.S. Reps. Todd Rokita and Luke Messer have been preparing for months to duke it out in next spring's GOP Senate primary race, with the winner to take on incumbent Democratic Sen. Joe Donnelly next November in one of the most-watched races in the nation.

But a year out from the general election, former state Rep. Mike Braun, a multimillionaire businessman who seems willing to self-fund his campaign, is disrupting the crowded GOP race.
Braun this month became the first candidate on the air with commercials, getting the jump on his better-known competitors. Braun, whose statewide name ID is low, just spent $300,000 to run an introductory commercial in several markets across the state. That spending is not reflected in his most recent campaign finance report.

Braun appears to have the money to keep up the ad buys. Although his fundraising trails that of Rokita and Messer, campaign finance reports filed with the Federal Election Commission show Braun has put more than $1 million into his war chest, $850,000 of which he loaned the campaign. And there's more where that came from. Braun's personal financial disclosure report showed he has assets of at least $35 million, though most are in corporate securities.

He also has a super PAC lined up to support him.

"When Rokita and Messer became candidates, it was expected they were going to be the two leading contenders," said Kyle Kondik, managing editor of the University of Virginia Center for Politics' Crystal Ball, which tracks national races. But Braun could change that.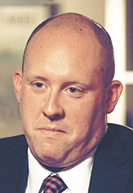 Kondik
"Sometimes in these primaries, it becomes a hard thing to handicap," he said. "It already seems there's bad blood between [Rokita and Messer]. If they beat each other up, there can sometimes be room for a third candidate to grab the nomination."

Messer's own campaign manager, Chasen Bullock, acknowledged the dynamics of the race have shifted.

"We're in a three-way race for the right to take on Democrat obstructionist Sen. Joe Donnelly," Bullock told IBJ.

However, it would be unwise to count out the congressmen. They each have just under $2.5 million in their campaign accounts, although Messer bested Rokita in third-quarter fundraising, pulling in about $735,000 to Rokita's approximately $433,000. Their established base of donors could mean they have a stranglehold on most of the available donor cash, as Braun was able to pull in just $200,000 in contributions from others.

Andy Downs, director of the Mike Downs Center for Indiana Politics at Indiana University-Purdue University in Fort Wayne, said Braun "has got to find a way to translate all of that personal contribution into other measures of support."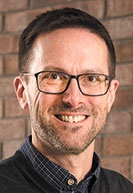 Downs
"Everyone thinks they can run like Trump," Downs said. "If you put in $1 million of your own money and you don't manage to get a lot of small-dollar contributions, that's not a good sign. It's not very hard to do that these days."

But if Braun is willing to spend millions more of his own cash and drown the others on the air, it will become more difficult for Rokita or Messer to compete.

Parallels

Political observers need only look at the 9th congressional district race in 2016 to find an example. Businessman Trey Hollingsworth was able to largely spend his own money to beat establishment candidates with higher local name ID—including state Sen. Eric Houchin and then-Attorney General Greg Zoeller—in the GOP primary.

The establishment party supporters then rallied around Hollingsworth to help him win the seat.

Now, New Hampshire-based David Carney, who acted as a consultant to Hollingsworth, is running the super PAC—Our Indiana Voice—that has formed to help Braun. Carney said next year's Senate primary and last year's congressional race are "sort of similar but not exactly."

"It's not completely analogous because [in the Senate race] you have two incumbents who have been part of D.C.," he said. "It's a little different than a state senator and an Indiana attorney general."

Kondik said Kentucky Gov. Matt Bevin and Nebraska U.S. Sens. Deb Fischer and Ben Sasse won in similar ways by competing against more familiar candidates.

Once you get past the primary, Kondik said, "whoever the GOP nominates is going to have a ton of national support because Republicans look at Indiana as one of their best opportunities to flip a Democratic seat next year."

Bob Salera, deputy communications director for the National Republican Senatorial Campaign, would not comment on the primary, which his group didn't plan to get involved in. But he said he's keeping a close eye on the race.

"Every outside observer agrees, and we share that view, that Indiana is going to be one of the top two or three races in the country," Salera said. "Donnelly's win [in 2012] was a fluke. Everyone on the Republican side of things is united in wanting to take out Joe Donnelly."

So far, prognosticators are listing the general election race as a toss-up.

That's because Indiana is a solid GOP state, but Donnelly is an incumbent in a decent fundraising position. He has $4.6 million in the bank. That's a formidable sum, but behind some of his peers. For instance, vulnerable Democratic Sen. Claire McCaskill in Missouri pulled in more than twice what Donnelly did in the third quarter and is now sitting on $7 million in campaign cash.

"The quarter-three numbers are striking in terms of how far ahead Joe is of the field," said Indiana Democratic Party spokesman Will Baskin-Gerwitz. "If you combine Messer and Rokita's numbers and add in an extra hundred thousand, Joe still outraised them.

"They have a very competitive primary and the fact that Mike Braun is clearly emerging on the scene will force them to start spending money a lot faster than they were probably intending," Baskin-Gerwitz said.

But though Donnelly's fundraising is dwarfing the Republicans' now, that won't last past the primary.

"There will be a sufficiently large number of people who just want to back the Republican nominee and they don't want to pick the wrong candidate during the primary," Downs said.

Defining each other

At this point, the top Republican candidates and their supporters are experimenting with how to define themselves—and how to cast the others. And some of the lesser-known candidates in the field are just trying to hang on.

Braun is trying to capitalize on Republican primary voters' frustration that there doesn't seem to be much movement in Congress. "I could sense there's still disgruntlement with what's actually getting done in D.C.," Braun said.

And, he said, he's trying to establish himself as the true outsider in the race, competing for that title with Rokita, who is running with the slogan "Defeat the Elite," despite having served in Congress and as Indiana secretary of state.

"Nobody is falling for that," Braun said. "When he first came out with that, there weren't many people buying that. The voter can discern something like that that's not got the substance behind it."

But Rokita's team is trying to paint Braun and Messer as moderates in the "pro-tax-increase wing of the party," according to Rokita spokesman Tim Edson.

One of Braun's key liabilities in a GOP primary is the fact that he voted for a gas-tax increase as a member of the Indiana Legislature earlier this year.

That tax hike is being criticized by groups such as Americans for Prosperity and the American Conservative Union, and could be unpopular with conservative voters.

Braun said he plans to defend himself on that charge.

"That's the short-sighted response from guys that are trying to take advantage," he said. "If it wouldn't have been for the dereliction of politicians in the past that didn't do the things that needed to be done, we could have avoided it."

Messer's camp is trying to establish his campaign as more economically viable than Rokita's. And Messer's allies are hoping that, with both Rokita and Braun touting an outsider message, they will eat each other's votes up. Bullock, the Messer aide, told IBJ that Messer "has raised more than his two primary opponents combined since announcing."

Though Rokita beat Messer in fundraising last quarter, this quarter he struggled. On Twitter, Donnelly campaign manager Peter Hanscom noted that Rokita "netted less than $16k last quarter."

"How can he compete if Mike Braun spends $4-6 million to win [the] primary?" Hanscom posted.

Meanwhile, at least one of the lesser-known Republicans who filed—there's Purdue Polytechnic Director Andrew Takami, attorney Mark Hurt and Terry Henderson—has decided he doesn't have the funds to compete at all. Henderson, who had the support of the ultra-conservative Indiana Family Institute, told IBJ "it was going to be enormously expensive in order to get the necessary name recognition," so he has suspended his campaign.

"The only real way to come up with those kinds of funds is to personal-finance," he said.

Takami's campaign manager, Ross Heinz, said the projected cost of the race was "frustrating as an American." He said his candidate would be "creative" in his efforts to compete.•