Carmel Redevelopment Commission Executive Director Corrie Meyer has resigned from the position, the city announced Tuesday morning.
Meyer, who oversaw the CRC for three years, said she needs to focus on her campaign for Indiana Senate.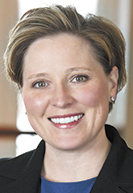 She announced her plans to run as a Republican candidate in the 29th Senate District in June, and at that time said she would continue serving as executive director of the CRC even if she won election.
Sen. Mike Delph, R-Carmel, is the incumbent in the district, which represents Carmel and parts of Zionsville and northwest Indianapolis.
"I have enjoyed my time in Carmel, but as I evaluated my path in service to my community, I determined that it was important for me to devote more of my time on the State Senate race for District 29," Meyer said in a prepared statement released Tuesday morning. "I want to use what I have learned in my career to influence positive change, help grow Indiana's economy and keep our communities safe."
Delph has not publicly announced whether he will run for re-election, but he has never faced a primary opponent since taking office in December 2005 when he replaced Sen. J. Murray Clark, who retired with one year remaining on his term.
Meyer, who has never run for elected office before, became the executive director of the CRC in 2014 on a consultant basis. She also runs a separate planning consulting business called Innovative Planning LLC and serves as the director for Indianapolis-based community group Reconnecting to Our Waterways.
Prior to joining the CRC, Meyer spent more than 10 years with Indianapolis-based architectural firm Schmidt Associates as an urban planner.
Meyer's resignation was effective Monday.
The CRC is responsible for promoting redevelopment in the city's underused areas and overseeing hundreds of millions of dollars in redevelopment efforts, including City Center and Midtown.
Carmel Mayor Jim Brainard has appointed CRC member and Bingham Greenebaum Doll LLP associate Henry Mestetsky as interim director. Earlier this year, Mestetsky started a Change.org petition in support of some of Brainard's latest projects, including the antique carousel and City Center hotel.
Adam Campagna, business development manager at Shiel Sexton, will serve on the CRC in place of Mestetsky.
Please enable JavaScript to view this content.