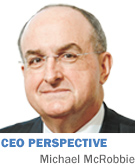 Ever since access to computers became widely available around 50 years ago, educators have understood and been excited by the vast potential that information technology has to transform and enhance the whole process of teaching and learning. In my long career in IT, I have seen many waves of progress in this area as new ideas were born and obstacles surmounted. And I am very proud that, in each of these waves, Indiana University has been a national and international leader.
The diverse and highly qualified new student body we have welcomed at IU this fall includes a large majority who were "born digital." They have the strongest expectation that we will be taking full advantage of the newest technologies, tools and expertise as part of an IU education. Older students, in turn, expect us to use all of these to provide them with access to courses, certificates and degree-completion programs in ways that are accessible and convenient for them as they seek to successfully balance school, work, family and other responsibilities. Those who are switching careers also value these options as they seek to add skills in rapidly growing areas like data science and cybersecurity. And all our students expect us to use these resources to provide them with an affordable and high-quality education.
When we created our IU Online education initiative over five years ago, we intended to add a highly convenient option for our current students to help them graduate on time and also reach new students who might not otherwise have considered a college education. This meant working in concert with our campuses across the state toward developing an online educational experience that would be a direct extension of the best of traditional classroom instruction, including two-way, personalized interactions between teachers and students, small class sizes and instructional materials properly suited to the subject matter.
In other words, our goal was to deliver an authentic—and authentically IU—higher education experience.
The results of this effort have been quite outstanding. This fall at IU, we have seen a record 5,066 students enrolled in more than 115 online degrees and over 2,000 online courses offered by IU, a 4 percent increase over last year's record. A remarkable 29,000 students—nearly a third of our total enrollment—are enrolled in at least one online course, a figure that has surged dramatically in the past four years, and those courses are accounting for more than one-tenth of all credit hours across the university and matching revenue.
We are seeing more and more students taking online courses to increase the number of credits they complete each semester, save money with our banded tuition program, and complete their degrees faster. And we are seeing more students taking online courses to complete degrees started many years ago that, when finished, will offer them new career and professional opportunities.
This fall, our students are benefiting from new degrees available through IU Online, including master's degrees in philanthropic studies, product stewardship and information technology management; bachelor's degrees in applied health sciences, informatics and medical imaging technology; and a doctoral degree in occupational therapy.
IU Online courses, materials and degree programs are created, taught and coordinated by IU faculty across multiple campuses and are subject to the same rigorous university processes and approval procedures as are our traditional academic programs. Our acclaimed Kelley School of Business began demonstrating this essential approach in 1999 when it launched the Kelley Direct MBA, one of the top-ranked online MBA degrees in the nation.
We recognize that the core value of any great teaching and research university will always be found in the personal experience. Indeed, our faculty and staff, our facilities, our traditions and our heritage are our greatest assets, and IU Online extends them beyond our statewide network of IU campuses. Ultimately, we are blending these resources with opportunities afforded by new technologies to create the best possible instruction while offering students more flexibility to shorten their time-to-degree and find new educational opportunities.
As our state's other colleges and universities move forward and incorporate innovations in digital technologies into online, on-campus and hybrid learning environments, we must all make our decisions guided by what is best for our students and what they need, based in turn on the belief that serving students well is the best way to ensure we are strengthening the state's workforce and improving the quality of life for all Hoosiers.•
__________
McRobbie is president of Indiana University and a professor of computer science.
Please enable JavaScript to view this content.