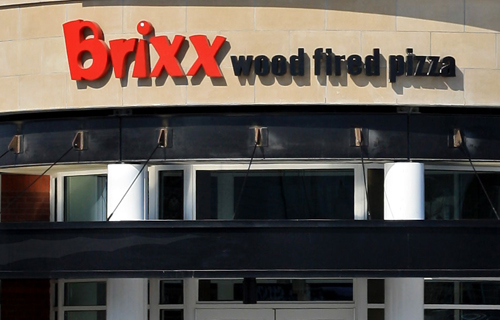 A pizza restaurant in a prominent downtown Fishers apartment building has abruptly closed its doors.
Brixx Wood Fired Pizza, which opened in The Depot at Nickel Plate development on the corner of Municipal Drive and 116th Street in February 2015, officially closed Wednesday after notifying property owner Flaherty & Collins Properties of the decision Tuesday night.
The North Carolina-based chain signed on as the anchor tenant to the $42 million apartment and retail project in July 2014. It occupied 3,824 square feet of ground-level space, plus offered outdoor seating.
The Fishers location was the only one in the state and the first Midwest outlet for the chain, which was founded in 1998. Brixx has about 30 locations across the country, but a majority are in North Carolina.
As late as Tuesday morning, the restaurant was posting deals to its Facebook page, offering a "Two for Tuesday" special with two free entrees when two entrees were purchased after 5 p.m.
According to a comment from the company posted on its Facebook page Wednesday morning, the closure was unexpected.
In an email, Neil Newcomb, president of Brixx Franchise System, said the chain was interested in reopening the Fishers location with a new franchisee.
"Fishers is a great community, and we continue to see tremendous potential for Brixx Pizza here," he said. "We're confident that a new ownership group can be very successful in Fishers and are currently talking with potential buyers for Brixx at The Depot at Nickel Plate. … We're hopeful to re-open in The Depot soon."
Brixx offered wood-fired pizzas cooked in brick ovens, salads, pastas and sandwiches.
"It is unfortunate that Brixx has made the decision to close. We are currently working through the details of their closure," Brian Moore, vice president of marketing and communications for Flaherty & Collins, said in an email. "We are confident in the retail options for businesses at The Depot. With all the retail spaces currently leased, and over 90 percent occupancy in the residential portion, it is a great fit in downtown Fishers. We have no doubt the space occupied by Brixx will find a new tenant soon."
The Depot, which includes 242 high-end apartments, 17,000 square feet of retail space and a 430-space parking garage, was the first major redevelopment project in downtown Fishers. It broke ground in October 2013 and officially opened in June 2015.
Other tenants include Flamme Burger, Dottie Couture Boutique and Salon 7. Yogurtz, a frozen yogurt shop that opened in 2015 at The Depot, also closed earlier this year. Its space along 116th Street was filled by Shine Home, a home goods and design shop.
Please enable JavaScript to view this content.