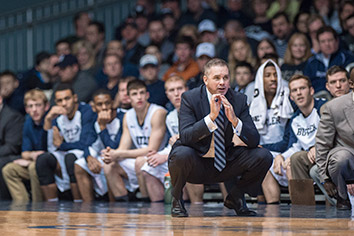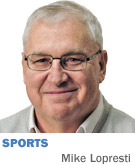 COLUMBUS, Ohio—So this is Chris Holtmann's new coaching home. No live bulldogs, no student body dressed in blue. Not even any windows in the roof at the Schottenstein Center. And a lot of the conversation in the stands seems to be about … the football team?
Toto, I don't think we're at Butler anymore.
Chris Holtmann is Ohio State's coach now, and on this night, his first batch of Buckeyes would beat Texas Southern to go 3-0 on the young season. He stood on the sideline with his arms sometimes crossed, and occasionally tried to help a shot with body English—just as he once did 175 miles west at Hinkle Fieldhouse.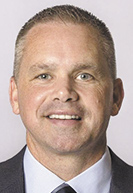 Holtmann
When the game was over, he and his troops joined the students in a verse of the school song, "Carmen Ohio." Then there was a press conference, when, among his answers, was this forecast: "I don't know that we're always going to win pretty this year. As a matter of fact, we may not win pretty at all."
And after that, he was headed home. But sure, there were a few moments to discuss how all this was going for the coach Butler sent to the Big Ten.
First things first. Does he know the words to "Carmen Ohio" yet?
"I'm learning them. I have the lyrics sitting on my desk right now. If we win a few more games, I think I'll have them down. Actually, we're going to sing it win or lose, so I'm going to be forced to know it."
At Butler his first year, he mentioned the value of Tylenol PM to help him sleep during some restless nights. How about now?
"It's by the bedside. I've got a couple of empty bottles."
Any surprises so far?
"I've told people these things are shotgun weddings, they happen so quickly. I didn't know the roster, I didn't know much other than having a couple of conversations with Thad [former coach Matta] and Gene [athletic director Smith]. It happened so fast, inevitably you're going to have some surprises come your way. The one thing I've learned—it's really incumbent upon the head coach to be able to handle the surprises with composure, because if you don't, it can affect the rest of your staff and it can affect the energy of your program."
Is he the same guy he was 12 months ago?
"I hope so. I know this, I was so unbelievably blessed to be the head coach at Butler. I was blessed beyond measure with the kids, with the administration, the reception from the fans and the appreciation of what we were doing.
"You make decisions that you feel like are best, and sometimes you don't know until 10 or 15 years down the road. I hope through all of this I remain with a certain level of gratitude. I hope that hasn't changed. A lot of times I look at myself and think, 'I don't think I deserve to be in this position.' I've been really fortunate to be where I'm at. I believe that. I've worked hard, but we all work hard."
Is there an Ohio State Way?
"Obviously, I came from the Butler Way. Those principles—there isn't any one particular person or program that has a monopoly on those. We want to try to bring what [principles] we believe are really important to have for a successful program. Thad did it in an unbelievable way for so many years, but there are some things in our locker room right now that we say, 'Hey, this is what we need to be about,' and they would probably look very similar to another place I've been."
So how is it coaching where football is unquestioned king?
"It's eye-opening. I have great appreciation for it, but it's certainly different than anything I've ever experienced. The fever this time of year is incredible. It's been unique for me, because I've never seen that, but I do really appreciate it, and I feel like it can be a strength for us. I had plenty of people tell me, 'You don't want to go there because it's a football school.' But I believe we can really be successful."
Miss Hinkle a little?
"Hinkle is special; I would never say anything otherwise. Obviously, the Schott has a different feel. I feel like both places are unique in different ways. I probably haven't coached enough games in here to fully understand what it's going to feel like once we hopefully have some success."
Finally, whenever Butler plays, does the Ohio State coach notice the score?
"Always. I watched the [Maryland] game last night. My wife said, 'Hey, I'm not watching the game with you; I know you'll be too nervous.' So she watched it in the living room and I watched it upstairs.
"I want those guys to have a really successful year. Obviously, I'm not a part of that program anymore, but I follow them as much as I can."
Holtmann's first road trip with Ohio State was to the PK80 tournament. Butler was there, too. Both sides were hoping they didn't have to meet on the court.•
__________
Lopresti was a columnist for USA Today and Gannett newspapers for 31 years. His column appears weekly.
Please enable JavaScript to view this content.