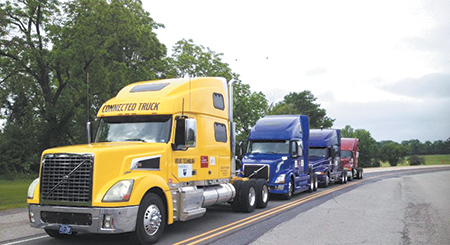 Self-driving cars may be years from reality for the average driver, but state officials want to act now to try to ensure Indiana is part of researching and developing the technology.
Gov. Eric Holcomb will ask lawmakers in 2018 to authorize the testing and operation of autonomous vehicles on Indiana roads.
The issue is at the top of his legislative agenda. Holcomb said it's part of preparing for "the next generation—or really the next evolution—of transportation."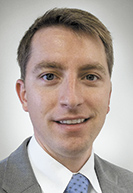 Kiefer
Chris Kiefer, chief of staff at the Indiana Department of Transportation, said the preparation needs to happen now.
"This is the future," Kiefer said. "This technology is eventually going to be deployed."
And Indiana is already behind.
Nevada was the first state to authorize the operation of autonomous vehicles. That law passed in June 2011. Since then, 20 other states plus the District of Columbia have passed some sort of legislation pertaining to autonomous vehicles—most encouraging research and development, according to the National Conference of State Legislatures.
Governors in five other states have issued executive orders related to autonomous vehicles.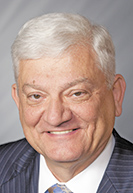 Soliday
But state Rep. Ed Soliday, who will introduce an autonomous-vehicle bill in 2018, said it's no problem that Indiana is just now considering legislation about the issue.
"This is a conservative state," Soliday said. "Running out and just passing some stuff when we didn't even know what it should look like" would be unwise.
Soliday, a Valparaiso Republican who chairs the House's Roads and Transportation Committee, said his bill is meant to help assure public safety while also allowing autonomous-vehicle testing on public roadways.
"We want to be open for testing and be part of the process," he said.
Much of the current testing is taking place in Western states, Soliday said. But a place like Indiana could offer developers a chance to test vehicles in a different environment. Technology that performs well in the Arizona desert might behave differently in an Indiana snowstorm, he noted.
At the same time, Soliday said, "On something this technical, I think you have to assure the citizenry that they're safe."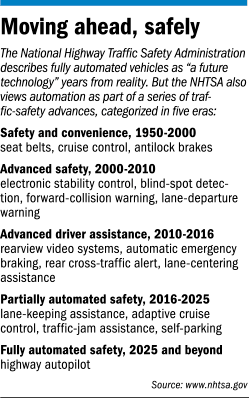 The bill, in part, would create a four- to five-member task force that would consider autonomous-vehicle testing requests. Anyone who wants to test fully autonomous vehicles on public roads would have to obtain the task force's approval. The rule would not apply to activities at test facilities.
To help craft the legislation, Soliday brought together representatives from a variety of entities, including automobile manufacturers, state agencies, the insurance industry, vehicle manufacturers, and tech firms like Uber, Lyft and Google. The group has met several times since this summer.
"We're still taking input from folks," he said.
The process has been challenging, he acknowledged, because there's so much uncertainty about autonomous vehicles—how they'll work, whether they'll be safe, how they'll interact with other vehicles, and how they'll be regulated.
In September, the National Highway Traffic Safety Administration issued what it calls "voluntary guidance" on safety elements designers should consider as they develop vehicles that can operate without a human driver. But at this point, there are no hard-and-fast safety standards, Soliday said.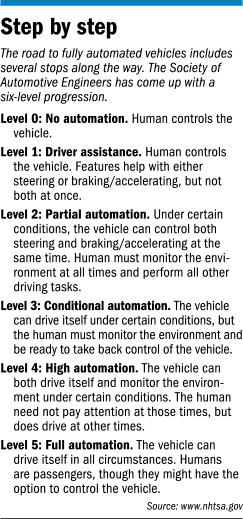 Further clouding the picture, he said, companies are casting visions that might not be realistic about when the technology will go into use and what it will be able to do. At the same time, he said, those companies are wary of sharing their data because the field is so competitive.
"One of the tough things with this stakeholders group is, they're all competing and they would all like to see the law favor their business plan," Soliday said.
State officials say research and preparation is key.
For example, Purdue University is involved in research related to platooning technology for autonomous tractor-trailer trucks. Platooning involves trucks moving together in close formation—like competitive cyclists or racecar drivers—to reduce drag and increase fuel-efficiency.
Current state law prohibits trucks from following other trucks closer than 300 feet. INDOT wants to work with Purdue on the platoon research, Kiefer said, but that could happen only with a change in legislation.
INDOT officials are also thinking ahead about the state's infrastructure. The Legislature earlier this year approved a long-term road-funding plan that will generate more than $1.2 billion in new revenue for state and local projects by 2024 alone.
As the state uses that money to improve roads and bridges, Kiefer said, it can also install features necessary for autonomous vehicles. For instance, having highly reflective lane markings and signs might be important so autonomous-vehicle sensors can detect them and maintain proper position.
But, Kiefer acknowledged, it's not yet clear whether that's how autonomous vehicles will work. So it's too early to say that INDOT will—or won't—install certain features along Indiana highways.
"We want to be good stewards of taxpayer dollars, and we want to make sure that we don't have to redo work," Kiefer said.
Lawrance
The Indiana Chamber of Commerce has also included autonomous-vehicle issues as a legislative priority for 2018. The organization specifically supports traffic-law changes that would allow autonomous-vehicle testing and operation, including truck platoons.
More broadly, chamber officials think Indiana can leverage its technology and manufacturing strengths to help develop autonomous vehicles.
"There's a lot of expertise on this topic here … . There's a lot of automotive manufacturing here," said Mark Lawrance, the Indiana Chamber's vice president of engagement and innovation policy. "We're seeing the topic advance, and we need to do something about it."•
Please enable JavaScript to view this content.