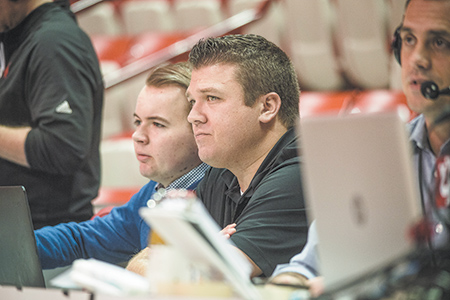 Alex Bozich never played basketball in high school, much less college. He never studied journalism or computer science and has little web design experience. All his business acumen is self-taught.
Growing up in New Albany, he wasn't even a huge Indiana University basketball fan.
"I was more of a White Sox fan," he said.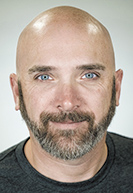 Muffley
Yet Bozich owns and operates Inside the Hall, one of the most popular websites covering IU basketball. It has a considerable following not only in central and south-central Indiana but throughout the Midwest.
In the decade since Bozich, now 35, and two others—Ryan Corazza and Eamonn Brennan—founded the site, it has grown from a hobby with dubious revenue-generating potential to a full-time business with an expanding following.
The site's page views have grown from 1.7 million in 2008, its first full year, to 18 million-plus this year.
"Those numbers make it relevant," said Todd Muffley, owner of Carmel-based Plan B Marketing and a veteran in the digital advertising arena. "The growth of the site from 2008 is even more relevant. That kind of [page view] growth is very impressive, and definitely isn't easy to achieve."

Revenue, too, has grown, enough for Bozich—who is now sole owner of the enterprise—to quit his job with a Louisville ad agency five years ago and operate the site full time.
Sixty percent to 70 percent of the site's revenue, Bozich said, comes from advertising—which, to keep employee count and overhead down, is handled by third-party sellers. The rest comes from subscribers—about 1,000—who pay $35 a year for access to premium message boards.
Bozich, the son of longtime prominent Louisville sports columnist Rick Bozich, declined to discuss revenue in detail, but said growth "has been steady."
Corazza, 32, who works full time as a web developer in Chicago, still works for Inside the Hall part time and said "it provides a nice secondary income." Another sportswriter and photographer do contract work for the website.
Brennan in late 2009 took a job with ESPN and no longer works for the site.
The site was the brainchild of Bozich, who found Corazza through Corazza's work on the Indiana Daily Student, IU's student-run newspaper. A self-taught computer programmer who worked as an IDS sports editor and columnist, Corazza jumped at the chance to start a website covering IU hoops.
Bozich admits the early names the two came up with—including AltarOfAssemblyHall, HoosierHype and CandyStripesAtTheHall—were pretty lame.
Then, Brennan—a fellow IU student—joined the team and suggested Inside the Hall. Bozich rushed to register the domain name.
"We've learned a lot over the last 10 years, a lot by trial and error," Bozich said. "I guess you could say we've grown up a lot."
The content has grown up, too. Initially, the founding trio used pseudonyms and the content was less analysis, more opinion.
"We're not a fan site," Bozich told IBJ recently. "We started that way, but changed. I'm a member of the working press, and I take that very seriously. I try to be as objective as possible."
Getting serious
Early on, game coverage and other news mostly consisted of links to other news sites.
After modest growth the first year—just 200,000 page views—Bozich decided to get serious about generating unique content for fans.
In 2010, he requested game credentials and he and Corazza began using their real names in bylines.
Page views jumped from 1.9 million in 2009 to 4.2 million in 2010.
To bolster its coverage, Inside the Hall began hiring undergraduates and graduate students, including some of IDS' best sportswriters, to help with home and away game coverage.
Its first hire was Zach Osterman, who wrote for the site from 2010 to 2011 before departing to work for Inside Indiana, an IU sports magazine. He now covers IU for The Indianapolis Star
The site got a big boost during former Coach Tom Crean's fourth season, his first with a winning record. The team went 27-9 overall and 11-7 in the Big Ten; Inside the Hall's page views bounced from 7.5 million in 2011 to 13 million in 2012.
The Hoosiers' run to the Big Ten regular-season title in 2012-2013 further fueled growth—to a record 17.8 million page views in 2013.
The number of unique visitors and the time those viewers spent on the site grew in lock-step, Bozich said. Currently, readers spend more than three minutes on the site. And in the 30 days ended Oct. 21, the site had 200,700 unique visitors, he added.
Bozich and Corazza added subscription-based message boards moderated by Bozich in 2012, which quickly grew to a mid-five-figure revenue stream. In 2015, the addition of video ads gave revenue another boost.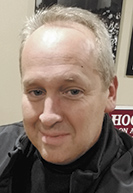 Stone
Jeff Stone, a 52-year-old Indiana native now living in Beaver Creek, Ohio, is an Inside the Hall reader—and paying customer.
"It's worth every penny and more," said Stone, an operations manager for a national restaurant chain. "I'm on the site and [message board] every single day. It's a place to go for intelligent conversation with people that really understand the game."
Bozich keeps the forum cleaned up, "keeping politics out of it" and "allowing people to be honest while keeping them from running down players," Stone added.
"For me, it's a must-have," he said. "I think that's the case for any serious IU basketball fan."
Learning on the fly
Over time, the site's reporting has become more sophisticated.
The site previews each opponent in "What to Expect" articles. That's followed by video of the coach and at least one player from the press conference leading up to the game.
An "At the Buzzer" story is hustled out—with game statistics and a short write-up—within minutes of a game's end. "The Minute After" is a 600-word story on the game, usually published within an hour. That's followed by a notebook section, which is a more traditional game breakdown.
"Five takeaways," featuring five points of analysis, is published the morning after. The "Film Session" is published in the days following and includes illustrated photos and a video clip of highlights.
In addition, Inside the Hall does player profiles and covers coaching and recruiting news year-round.
"The site has a very consistent approach now, and Alex does a great job of finding different angles to cover, even in the dead of summer when there's not seemingly much going on," Corazza said. "The consistent news the site produces, I think, is the key to its success."
Bozich has decided not to follow the example of other niche sports websites that have sold to larger news organizations or become part of a national syndicate.
"I want to control the site and its content," he said. "We've worked too hard to turn it over to someone else."
Inside the Hall is one of few sites nationally that cover a single sport.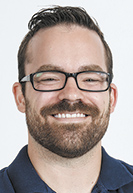 Schultz
"Most of these types of sites cover football and men's basketball at the least," said Derek Schultz, co-host of WNDE-AM 1260's "Query & Schultz Show." "The amount of content they are able to put out there on a single sports program is just unbelievable. That's one of the big reasons why any IU basketball fan, certainly in the 25-to-45 age range, knows what Inside the Hall is."
Still, Bozich admits, there were—and continue to be—challenges.
A big one was getting media credentials for away games. Bozich smartly became a member of the U.S. Basketball Writers Association, and the organization helped iron out that bump.
Then a traffic surge—more than 500,000 page views in a 48-hour period—between the time the university fired Crean after last season and hired Archie Miller crashed the site's servers.
"That was a big learning experience," Bozich said. "I was pretty hard on myself. There's nothing worse for a website than to have your servers go down."
Bozich has since upgraded his technology.
"We're still learning a lot. We didn't get into this knowing how to run a business," he added. "There's no book on how to run a website that's going to grow from just over a million views to 18 million views in a decade."
Not Plan A
Despite being the son of a sportswriter, Alex Bozich didn't set out to be a journalist.
He majored in political science at IU. He went to school in Bloomington for 18 months and graduated from IU Southeast in his hometown of New Albany in 2004.
"I thought I wanted to go to law school," he said.
After working at the Staples office supply chain for a short period and then at a Louisville ad agency, Bozich decided in November 2012 to run Inside the Hall full time.
"It was not a decision I took lightly. I had one kid and another on the way," he said. "There was definitely a fear of the unknown."
The pressure mounted to monetize the website.
Early on, advertising consisted of a deal with Joe's on Weed Street, a Chicago sports bar that specializes in live entertainment, and a handful of other banner ads. Joe's contacted Bozich and paid about $1,000 a year.
Bozich knew he needed a lot more than that and couldn't afford to hire a sales team—or even a salesperson. He quickly learned he couldn't earn enough using Google's AdSense service, which populates websites with Google ads and gives the site owner a small percentage of the revenue.
He discovered that a more favorable business model was to allow other third-party ad sellers to bid out his ad space and split the money with him.
"Once we started to get more traffic, I learned more about monetizing the site," he said.
In early 2014, Bozich started a podcast—which he co-hosts with fellow IU graduate Jerod Morris. Called "Podcast on the Brink," it's secured sponsorships from the national secondary ticket broker Seat Geeks, local apparel dealer HoosierProud.com and Indiana University, which advertises mini-series basketball ticket packages.
Inside the Hall also partnered on ads with Fox Sports until this year, Bozich said, when Fox Sports "pivoted to video."
Dad and the WWE
While Bozich admits to being pretty green when he started the company, he did have two big advantages.
First, while in high school, he operated a website for about three years covering professional wrestling. While the site wasn't a huge moneymaker, Bozich made enough from ad sales to buy a car and "put some money away."
"I'm not sure my dad didn't think I was doing something illegal," Bozich said with a laugh. "I was running this site for fun, and suddenly checks started showing up for me at the house. It made me realize what a powerful niche-following can mean."
In 2002, WWE sent Bozich a cease-and-desist order for using its images, and instead of getting in a wrestling match with the massive operation, he shut down his operation.
"I was 19, and I wasn't going to fight them over it," he said. "I just moved on."
Another big influence on Bozich is his dad, who, after graduating from IU in 1975, worked nearly 25 years as a sportswriter and columnist for The Courier-Journal in Louisville.
In 2012, the elder Bozich, a Gary native, left for Louisville Fox affiliate WDRB-TV Channel 41, writing online sports stories and doing on-air commentary.
Bozich said of his father: "He's never lost his edge."
"I learned from my dad, if you're not making adjustments in this business, if you're not looking for the next innovation or change to sustain yourself, you're not going to be in business very long," Bozich said.
At The Courier-Journal, Rick Bozich was an early adopter of social media to promote his work and did a webcast to answer reader questions.
"Even today, after all these years, he's writing four or five times a week for the website and does regular on-air TV commentary," Alex Bozich said.
No one is prouder or perhaps more surprised by what Bozich has done to grow Inside the Hall than his dad. Rick Bozich noted that it was his daughter, Maggie, who earned a journalism degree. "Alex did not seem headed in that direction," he added.
"When he told me what he and Ryan and Eamonn were talking about (in 2007), I thought they would have a fun couple of years and move on to other things. That was not one of my better predictions," Rick Bozich said. "I have been a spectator who has watched Inside the Hall become the go-to site for IU basketball coverage. I give a lot of credit to Alex, Ryan and Eamonn."
Alex Bozich said that, as important as adaptability is, the most critical component of his site's success is "consistent and robust coverage and content."
"There's no shortcut to building something worthwhile," he said. "Consistently offering quality, trustworthy content is a way to build readership—and a paying customer base."•
Please enable JavaScript to view this content.