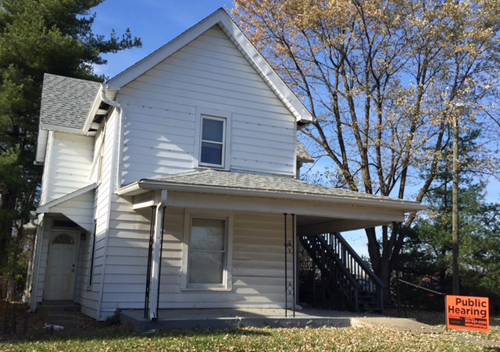 Neighbors of a vacant, two-story residence near the University of Indianapolis campus shouldn't be alarmed if they start to see crime-scene tape strung around the property.
They can rest easy, knowing the house near the southeast corner of East Hanna Avenue and Shelby Street is set to become a criminal justice education lab. The lab is a partnership between the university and the Indianapolis-Marion County Forensic Services Agency.
"We're always struggling for places to train, so this benefit is huge for us," said Michael Medler, the city's director of forensic services. "You just can't do it anywhere."
Students enrolled in UIndy's criminal justice program will benefit as well, by experiencing mock crime scenes in a realistic setting instead of a classroom.
The home, owned by UIndy, sits at 4018 Bowman Ave. and most recently had been used to house visiting professors from China. Its stone's-throw proximity to the campus is one of its major assets, said Kevin Whiteacre, chairman of the university's department of criminal justice.
"It has a great yard and it has the right number of bedrooms to have multiple crime scenes going on at the same time," he said.
   
The idea to share a criminal justice education lab arose from an existing relationship between the university and the forensic services agency.
It contracts with UIndy professors Stephen Nawrocki and Krista Latham, both certified forensic anthropologists, in conjunction with the county coroner's office, to excavate buried bones in homicide investigations.
The forensic services agency doesn't handle enough of those types of cases to devote a full-time position to the excavation of human remains, Medler said.
He approached UIndy about adding a crime scene investigation component to its existing criminal justice program, where students can sketch crime scenes, handle evidence and collect blood.
"No one else is offering that at this level in the state," Medler said. "We hope it bears fruit and gives students a leg up on potential employment."
The forensic services agency could hire some of them. Housed within the downtown Marion County Jail, it has 13 employees and hopes to hire three more early next year, if local government finances allow for it.
The agency has a "pretty high turnover rate," Medler said, because "you're seeing the worst of humanity."
"You've got to get over the odors and all the different things," he added. "It's a very hard job."
The agency offers forensic support for all county homicides, robberies, sexual assaults and kidnappings.
The Indiana Law Enforcement Academy offers a house the agency can rent to conduct forensic training. But the cost to rent the facility can run up to $450 per day, Medler said.
UIndy will offer the home to the agency free of charge. Medler doesn't expect any updates or improvements to be made to the vacant home and said it will be more realistic as a crime scene if it's left in its current condition.
UIndy President Rob Manuel supports converting the home to a crime lab.
"Kevin [Whiteacre] and his crew have become very creative about how to expand the criminal justice program," he said. "This is a sustained use, and it's something that has longer legs than temporary housing."
The university is seeking to have the property at 4018 Bowman Ave. rezoned to make way for the lab. The Metropolitan Development Commission's hearing examiner is set on Thursday to consider UIndy's request.
Whiteacre is aiming to have the lab ready for students next semester.
Please enable JavaScript to view this content.