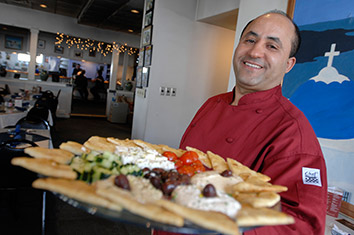 The owners of Fountain Square stalwart Santorini Greek Kitchen are back managing the restaurant after turning daily operations over to an outside firm just two months ago.
Taki and Jeanette Sawi in late September announced the management change, so they could devote all of their time to running the Biltwell Event Center, which they opened in 2015.
But the couple since has had a change of heart.   
"From the first week, it just didn't work," Taki Sawi told IBJ. "It's like your baby, and now you're going to give it to a babysitter. It's just different."
Taki declined to identify the managers and didn't offer details on why the handoff didn't stick. He told IBJ in September that the managers  are Greek and run restaurants in both Chicago and Indianapolis.
The Sawis teased their return to Santorini in a Facebook post on Monday, exclaiming that "they're back!"
"Let's just go with it, it's the right thing for everyone, right now…" the post said.
The Sawis opened the original version of Santorini Greek Kitchen in 2001 at 1112 Shelby St. They moved to their current, larger space at 1417 Prospect St. two years later, in 2003.
They created the Biltwell Event Center in a 102,000-square-foot downtown warehouse at 950 S. White River Parkway that was built in 1922. They bought the structure in November 2014 and renovated it as a large banquet facility.
Despite their hectic schedules operating both Santorini and the Biltwell, Taki Sawi said he and Jeanette will make it work.
"We're back from where we came from, and we'll continue to do what we're doing," he said. "But we'll have to compromise."
Please enable JavaScript to view this content.