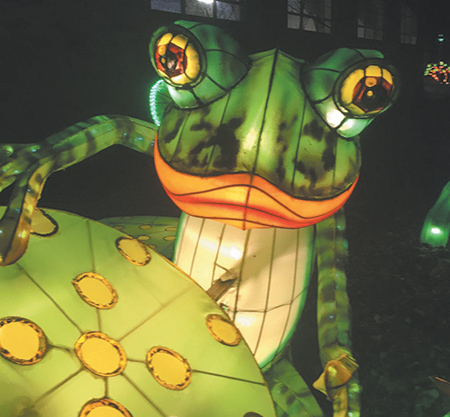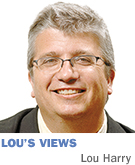 For a while there, a few overzealous Clark Griswold wannabees—along with Christmas at the Zoo—were the primary places to see awe-inspiring light displays in Indianapolis around the holidays.
Now, though, with Lights at the Brickyard (in its second year) and WinterLights at Newfields (see last week's column), fans of bright, bold, electricity-eating displays have more options. Add to that list another newcomer, the Indiana Chinese Lantern Festival (through Jan. 7—including Christmas and New Year's Day) at the Indiana State Fairgrounds.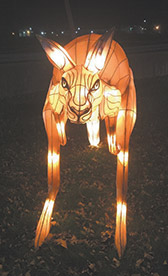 More of the same? Hardly. The Fairgrounds show is packed with its own personality … and comes with a lower price point, $15.
A whimsical, culturally rich delight, with imaginative and unexpected visual charm, it features 33 different displays with more than 10,000 light components, and goes well beyond the traditional iconography of dragons, pandas, majestic arches, etc. Those are well-represented, of course, including a 200-foot dragon and a bamboo field of bears. But you'll also find lit-from-within kangaroos, frogs, dinosaurs, many varieties of flowers and more, all built by Chinese artisans.
Recall the covered bridge on the west side of the Fairgrounds? It now serves as the multi-colored entrance to the stroll-through show. Once in, you free-associate along the curved walkways that encompass the northwest corner of the grounds, including the free stage and the DNR Building. Each display includes a short—and lit—bit of contextual text.
This isn't an only-in-Indy offering. Created by Tianyu Arts & Culture Inc., the American subsidiary of the international design and manufacturing company Sichuan Tianyu, it's similar to events staged by the company around the country. You might have even seen some of its work in the James Bond film "Skyfall."
The displays are supplemented by nightly acrobatic performances and a craft tent with handmade work for sale. It's outdoors, so dress for the weather.
My only disappointment was in the limited offerings at the single Chinese food truck. And a corndog just didn't seem appropriate.
The tea was terrific, though.•
__________
This column appears weekly. Send information on upcoming arts and entertainment events to lharry@ibj.com.
Please enable JavaScript to view this content.