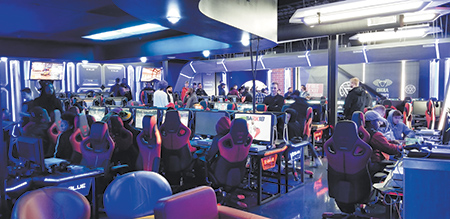 Former IndyCar Series and Indianapolis Motor Speedway executive Ken Ungar first got into video games in the 1970s.
Ungar, who owns local sports marketing agency Charge, got his start with a Magnavox Odyssey game system before moving on to Atari.
But Ungar didn't realize video game competitions could be big business until last year, when he attended a tournament in Columbus, Ohio, with his 16-year-old son.
The Major League Gaming tournament in the 18,500-seat Nationwide Arena drew nearly 13,000 ticket-buying spectators for the one-day championship round—and millions more through the webcast.
"I was stunned by what I saw," Ungar, 54, said. "It was a complete revelation."
He's not alone. Many people, especially those over 40 years old, are just now waking up to esports—what it is and what it can mean from a business standpoint.
Immediately following his Columbus trip, Ungar began to strategize how his company could get involved with—and profit from—esports. Within weeks, Charge launched an esports division.
It has grown every month since, working with increasing numbers of sponsors, event and league organizers, and the athletes themselves, Ungar said.
But Charge isn't the only local company jumping into esports faster than Super Mario leaps over barrels. Consider that:
■ The Indiana Pacers next spring will be one of 17 NBA teams to field a five-person team in a new esports basketball league backed by the NBA and Take-Two Interactive Software Inc. The Indianapolis Colts and IndyCar Series also have contemplated esports involvement.
■ In September, the owner of the Grand Park Fieldhouse in Westfield transformed 2,600 square feet of the facility into central Indiana's first dedicated esports center—called Game On.
■ This fall, Indiana Tech in Fort Wayne and Trine University in Angola became the first Indiana colleges to offer esports as a varsity sport. Both schools offer player scholarships and Trine is building an esports gaming studio. Fifteen other colleges nationwide—including NCAA Division I schools the University of Utah and Robert Morris University—are offering esports scholarships.
■ Indiana, Purdue and Ball State universities have esports clubs, and the Big Ten Network is set to broadcast Big Ten esports competitions next year.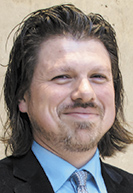 Clavio
There's a simple reason so many businesses are launching esports initiatives, said Galen Clavio, an IU professor of sports media and the liaison between the school's athletic department and esports clubs.
"It's a great way for schools to market themselves and increase applications and admissions," Clavio said. "A lot of companies see this as a way to extend the reach of their brand in a whole new—and very massive—way."
The first thing to understand about the esports phenomenon is that video games have evolved over the last 20 years into complex, multi-player games that require keen hand-eye coordination, extreme concentration, strategy and teamwork.
"This isn't Space Invaders or Tecmo Bowl," said Rick Barretto, operator of Grand Park's Game On center, one of a growing number of facilities nationwide that offer leagues and tournaments and train players—from youngsters to elite professionals. "If that's your understanding of esports, there's a lot to learn. This is a brave, new world."
Esports games include not just sports—like basketball (NBA 2K) and auto racing (iRacing)—but also intricate battle games like Dota 2 and Heroes of the Storm.
Billion-dollar market
In the last decade, esports has become a global sensation.
In the United States, Staples Center in Los Angeles and Madison Square Garden in New York have hosted events.
In southern Poland, the 2017 Intel Extreme Masters World Championship drew 173,000 spectators over five days in February and March. That's an average daily crowd of nearly 35,000.
Ungar
"I don't think many people completely grasp the power of this movement," Ungar said.
Esports will be included in the 2018 Asian Games. And the International e-Sports Federation, a South Korean organization, has received a response from the International Olympic Committee outlining the process to allow esports to be recognized as an Olympic sport. IOC officials said esports could be part of the 2020 Olympic Games in Tokyo.
Newzoo, a San Francisco-based esports, gaming and mobile communications research firm, estimated the esports global market will hit $696 million this year, a 41 percent increase over 2016.
Consumer spending this year on tickets and merchandise will amount to $64 million, according to Newzoo. Game publishers will spend another $116 million through partnership deals with event organizers.
Sponsors including Audi, Axe, Coca-Cola, Doritos, Geico, HTC, Logitech, McDonald's and Nissan will spend more than $250 million on esports this year. Amazon, Alibaba, Google, Disney, Sony and Microsoft are all poised to join the fray.
Investment from sponsors and game publishers will double by 2020, pushing the total market to $1.5 billion, Newzoo concluded in a recent report.
Players, too, are cashing in.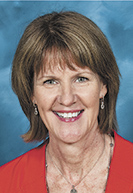 Krauskopf
In the last five years, 43 esports tournaments have offered a purse of $1 million or more. The 2017 International Dota 2 Championship in Seattle had 18 teams, with a total of 90 players, battling for a $24.7 million purse. The winning five-person team took home $10.8 million. The top six teams each banked more than $1.1 million.
Esports athletes specialize in one game, Barretto explained.
"It's not like you're good at video games, so you can just pick up a controller and excel at any game. It takes a tremendous amount of time and discipline to achieve elite status in a single game," Barretto said. "It's really like a military training regimen."
Pros want in
Professional sports entities including Formula One, Global Rally Cross, the New England Patriots and a host of big-time European soccer teams are involved. NBA Commissioner Adam Silver expects all 30 NBA teams will have an esports basketball team in the NBA's league by 2019.
The investments are not small change. The NBA's Golden State Warriors recently spent $13 million to launch a team in the North American League of Legends Championship Series. The team will make another multimillion-dollar investment in the NBA's 2K basketball league and is looking at involvement in other leagues.
"It's a totally globally connected ecosystem," Golden State Warriors Assistant General Manager Kirk Lacob recently told SportTechie. "When you look at esports as a whole, it's incredibly young, yet massively huge. We need to capture some of that same magic on the basketball level going forward, but we also thought we could learn from it as the world shifts the way it consumes."
The Pacers, too, are ready to invest in esports "in a significant way," said Indiana Fever President Kelly Krauskopf, who was recently named head of the Pacers esports team.
Pacers officials are taking their esports initiative so seriously, they've lightened the highly respected Krauskopf's load with the Fever. She remains president of the WNBA team, but as of late November, is no longer general manager.
Though Pacers officials declined to divulge their esports budget, Krauskopf said: "We expect to leverage all our resources and treat this like our fourth franchise." Besides the Pacers and Fever, the franchise runs the Fort Wayne Mad Ants, a professional developmental men's basketball team.
The Pacers will unveil the esports team name and logo this month, Krauskopf said.
Sport or not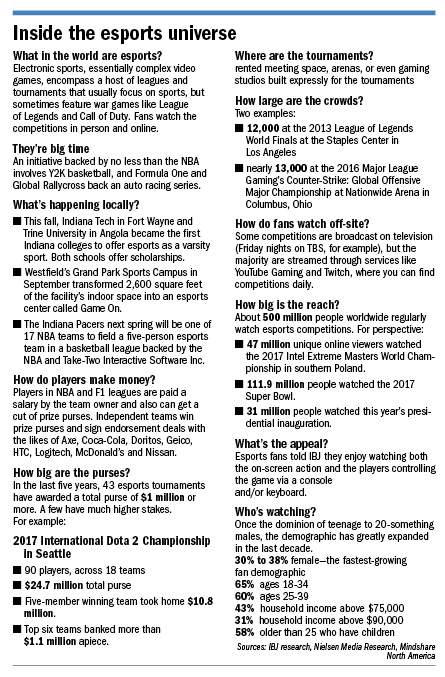 Despite esports' huge popularity, the phenomenon still has its doubters.
There is no shortage of people who contend esports are not real sports, that elite gamers are not athletic, and that hand-eye coordination with flat-screen technology is no comparison to hitting a 95-mile-an-hour fastball.
Count former NFL Commissioner Paul Tagliabue among the critics.
"Things are being called sports that have nothing to do with sports or with the values of sport. I read about esports, and it's not sports. The only physical activity is pushing keys," Tagliabue said in a recent interview at the University of Michigan with Michigan Athletic Director Warde Manuel.
Tagliabue, 77, said esports competitors are not exerting themselves physically, emotionally or psychologically.
"Sport is a microcosm of life—you prepare, you compete, you win or lose," Tagliabue said in the interview. "You evaluate, you re-evaluate, you re-prepare, you re-compete. That's what life's about, getting yourself better and better, and doing it against competition that's demanding."
Esports advocates bristled at Tagliabue's comments.
"Former Commissioner Tagliabue doesn't realize that esports actually meets his definition of sports, including physical, emotional and psychological exertion," Ungar said. "Today, the training regimen of every professional esports team takes these factors into account when preparing its players for competition."
IU's Clavio said Tagliabue's comments sound "uninformed and generationally distant, and almost as if he feels like traditional sports are threatened by this new method of competition. I think there's plenty of room for both types."
Global brand extension
But the debate is less important than esports' massive reach, said Tim Frost, president of a Chicago-based motorsports marketing consultancy.
"Will there be a shakeout once the newness of esports wears off? Probably," Frost said. "But the numbers are so huge, you can't deny the staying power."
That's why Frost, who puts on a motorsports business seminar at the massive Performance Racing Show held each December in Indianapolis, has added esports to the docket this year.
"If sports entities refuse to acknowledge the relevance of esports, they're going to miss out on some tremendous opportunities," he said.
Krauskopf said traditional sports entities like the Pacers have multiple reasons to become involved in esports.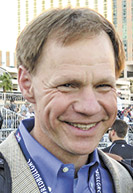 Frost
First, she said, there's money to be made. Just as important, though, it's a new way to cultivate the next generation of fans—and on a global basis.
"Twenty-two percent of millennials worldwide watch esports. So the reach goes far beyond the number of seats in Bankers Life Fieldhouse," Krauskopf said. "It makes a lot of sense to extend the Pacers brand into this global, digital world where the next generation of sports fans exists."
The Pacers will begin drafting esports players in mid-March—after a league-wide tryout—and start a training camp of sorts for the five people on the team in April. The 14-game season will run May to August.
The players in the NBA league will design their own avatars and the games will be played—at least initially—at two neutral sites. The vast majority of viewing will take place through webcasts, Krauskopf said.
While TBS airs esports competitions each Friday, the biggest viewing audiences come from websites such as Twitch and YouTube Gaming.
The 2017 Intel Extreme Masters World Championship in Poland was watched by nearly 47 million unique online viewers, a 35-percent increase over 2016.
To put that in context, the 2017 event viewership was 16 million more than watched this year's presidential inauguration, according to Nielsen Media Research.
In total, more than half a billion people worldwide watch esports, according to multiple research firms.
Krauskopf said esports can offer fans access that traditional sports cannot.
"We see the possibility of fans actually talking to players during the competition to get their insights," she said.
Hundreds of thousands of people are already watching esports via virtual reality technology.
Women wanted
Statistics vary, but most say nearly at least two-thirds of esports viewers are male.
That's a huge concern not only for advertisers who want a more diverse audience, but also for colleges contemplating making esports a varsity sport.
"There's a real issue with Title IX," Clavio said. "I'm not sure why esports is so male-dominated. It could be cultural given that many of the esports games are centered around sports and battle and war games."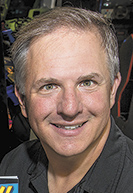 Barretto
But Barretto, who operates Game On at Grand Park Fieldhouse with his wife, Cara, an avid esports gamer, said the female demographic—in terms of both players and spectators—"is the fastest growing."
"As esports games become more diversified, we're seeing the interest become more diversified," he said.
"For a long time, playing video games was not encouraged for girls and women," Cara Barretto said. "There were no good role models. Not even many of the avatars are women. A lot of that is changing."
There's a lot to like about other aspects of the esports demographics.
The fan base is quite young, with 65 percent of fans falling in the 18-34 age range. Ungar said young men in particular are a desirable market for many advertisers. Forty-three percent of esports fans have an annual household income above $75,000 and 31 percent have an annual household income above $90,000, according to global research firm Mindshare North America.
"The demographics are drawing in a lot of blue-chip companies," Ungar said. "And I think we're just at the beginning. As awareness of this movement grows, a lot more corporate entities are going to want to play in this arena."•
 
Please enable JavaScript to view this content.