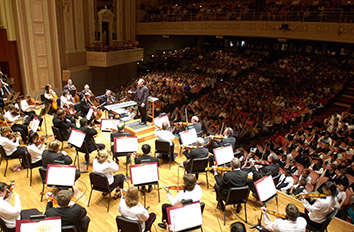 The Indianapolis Symphony Orchestra experienced its fifth straight year of record ticket sales during the 2016-17 season while meeting budget projections for the fourth time in five years.
The not-for-profit Indiana Symphony Society, which oversees the ISO, announced Tuesday that it enjoyed a $27,000 budget surplus in the fiscal year ended Aug. 31.
Total revenue came in at just more than $26 million and total expenses were slightly under the $26 million mark.
The society bounced back from an operating loss of $561,000 in the 2015-16 fiscal year—its first deficit since operating in the red for five straight years prior to 2012-13.
"The general operating surplus for FY17 resulted from a combination of achieving a significant increase in earned revenue over the prior year, prudent expense management, and a reduction in medical claims during FY17 compared to the prior year," Michael Becher, treasurer of the society board of directors said in written comments.
Earned revenue rose to $11.8 million, up from $9.6 million the previous year, thanks mostly 21 percent increase in ticket revenue. Ticket sales rose to $10.7 million, compared with $8.7 million the year before.
Season subscription ticket sales in 2017 increased 3 percent over 2016, the society said. The annual "Yuletide Celebration" saw record sales, rising 21 percent.
The annual Symphony on the Prairie concert series, which was plagued by inclement weather in 2016, achieved record sales in FY17, up 34 percent.
ISO fundraising for the 2017 fiscal year brought in $8.9 million, about $182,000 less than the previous year. Becher said it was the fifth straight year the ISO received contributions of $8.9 million.
The ISO drew $4.6 million from the Indiana Symphony Orchestra Foundation for a draw rate of 5 percent, the same rate as the previous year. The draw rate has decreased dramatically this decade, down from 12 percent in 2012.
Becher said an ongoing effort to control costs kept the increase in operating expenses to less than 1 percent.
"The ISO board of directors is committed to ensuring that the institution continues to present the highest quality performances and programs while remaining on sound financial footing for many years to come," he said.
Among the other highlights from 2017:
— The ISO gave 181 performances, drawing total concert attendance of 295,556;
— Symphony on the Prairie, which lost Marsh Suprmarkets as a sponsor but quickly replaced it with Kroger, saw record attendance of 123,668;
— The ISO sold a record 9,997 student tickets;
—The symphony received 6,744 gifts from 4,873 donors.
Chairwoman Yvonne Shaheen said the ISO expects to announce a new CEO "in the coming weeks" to replace Gary Ginstling, who announced his departure in June to become executive director of the National Symphony Orchestra.
Please enable JavaScript to view this content.